Registration for the 2020/21 courses of the Microfusa schools is still open. But there are fewer and fewer places left. If your future is in the world of music, you still have the opportunity to sign up for the following courses
If you are attracted to the world of music and you want to build a career with a future or you are simply an artist with concerns, the best way to advance is through training. Perhaps you have started to make your first mixes influenced by your favorite DJs, YouTube channels, or perhaps the mix of technique and creativity of music production has caught your attention, maybe you see a professional exit as a sound technician, or you are composer or singer and you understand that there is much beyond the artistic part. At Microfusa we will teach you and give you the push you need to jump on stage.
The 2020/21 courses start this coming October. We still have open registration. But the truth is that many courses have already completed their places and in some there are only places left in some hourly shifts. If music is your passion, don't miss this opportunity, it's the year to study!
With our diplomas you have the possibility of deepening in the areas corresponding to artistic and technological production and sound. Studying our 2-year programs gives you a broad and deep insight necessary to become a professional.
Our professional certifications are specific courses in outstanding areas, lasting 9 months. It is the best training itinerary to learn and master the tools in the most complete and advanced way.
With both, the classes are complemented with access to various material, exercises and projects proposed in our virtual campus. The school has the best facilities and a technologically and pedagogically updated teaching team.
Microfusa Barcelona School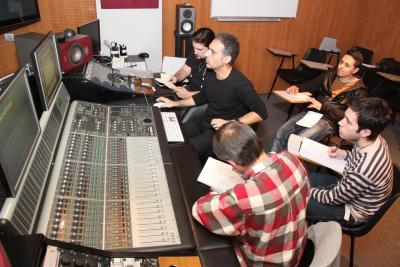 Escuela Microfusa Madrid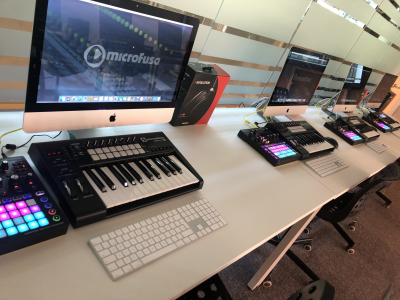 Courses with all Covid-19 measures
At Microfusa we know how important it is to have all the guarantees given the extraordinary situation that we are experiencing to start the new course. That is why we have taken the necessary measures to guarantee safe learning adapted to the new normal situation in which we find ourselves:
– We have adapted the ratio of students per space:
– 12 students per classroom
– 6 students per study
– Temperature control at the inlet by thermometer
– The use of the mask is mandatory
– Available hydroalcoholic gel to disinfect hands at the entrance and in common areas
– Isopropyl alcohol in each classroom to clean surfaces after each use
– The use of your own headphones is mandatory
– Ventilation before, during and after each class
– Hybrid classes (for students who can choose this option)
– 50% face-to-face
– 50% telematically
– Annual commitment signed
And remember that if you don't have the possibility to sign up for these face-to-face courses, you always have the Microfusa online training. In October Online you will find all the information about our online courses.
---
Ronda Guinardó, 65. Barcelona / Tel.: 934 353 688
Paseo de Juan Antonio Vallejo – Nájera Botas, 59. Madrid / Tel.: 917 024 592