In today's article we present you the news from Antelope Audio: the new products that have arrived at MicroFusa stores and the new promo that you will not be able to resist
Through Antelope Audio, Igor Levin, the well-known creator of the legendary AardSync, has not only always been an innovative benchmark in the development of synchronization hardware for digital audio. He also continually sets new standards for quality and performance for both Home Studio users and the more professional recording studios.
At MicroFusa we are Antelope Audio distributors. In our MicroFusa Barcelona, MicroFusa Madrid and MicroFusa online stores we put their entire catalog at your disposal. From its wide range of modeling microphones such as Edge, Edge Duo, Edge Quadro or Egdge GO; to the most prominent models of the brand such as the new Orion 32+ Gen3 and Orion 32 HD Gen3 of the third generation. And, of course, we also bring you all the news. Like the two new Antelope products that we present to you today:
Antelope Axino Synergy Core is much more than just a simple USB microphone with microphone and effects emulations. It is a revolutionary recording system that combines a professional condenser microphone and an audio interface with advanced processing capabilities. In addition to Axino's high-quality professional sound, it has 18 microphone emulations ranging from classic dynamic microphones to rare Tube & FET large-diaphragm condenser microphones. These microphone emulations can be applied in real time while recording or when mixing in the DAW, as well as the 8 effects that you can access through the complete virtual studio, such as: reverb, compression, EQ, noise gate and -is to be.
Axino Synergy Core also features a gold diaphragm that offers low self-noise for clean, natural recordings. And it is equipped with a professional audio interface with high fidelity converters.
Axino Synergy Core only needs a headset and a laptop with a USB connection. That makes it perfect for any self-recording artist. The control panel lets you effortlessly configure effects and streamline workflow, allowing users to quickly get voice-overs, podcasts, and streams to match the world's favorite content creators.
The second novelty is the new Zen Q Synergy Core interface, an audio interface specifically designed to bring professional studio performance to any desktop setup. Its compact design houses leading AD / DA converter chips, discrete ultra-linear mic preamps, and a 64-bit AFC ™ clock system based on Antelope Audio's legendary master clocks. With its extensive I / O capabilities and vast collection of Synergy Core effects, Zen Q introduces a wide frontier of possibilities.
Among its characteristics we can highlight:
Thunderbolt 3 interface with advanced audio driver for optimized low-latency streaming, playback, and recording
Professional sound and stability through highly efficient AD / DA converter chips and patented 64-bit AFC ™ (Acoustically Focused Clock)
2 discrete ultra-linear preamps designed with authentic console circuitry for classic warmth and sonic depth, with switchable Mic / Line IN / Hi-Z modes
2 additional analog inputs, with switchable Hi-Z / Line modes
Low-latency real-time processing of 37 analog-modeled Synergy Core effects included with 50 optional expansions
Flexible I / O connectivity, with 8 additional inputs over ADAT and stereo I / O over S / PDIF
New Antilope Audio promo: Free software!
From May 1 to June 30, for the purchase of one of the Synergy Core audio interfaces selected in the promotion, you get one of the 5 bundles of effects of your choice for free.
The interfaces included in the promotion are the following:
And these are the 5 bundles of effects you can choose from:
"Time to Shine" FX Bundle: For those who aspire to create the next big pop hit. The twelve effects included in the pack will help you find that warm tone for the verse and a more punchy feel for the hook.
"Let's Mosh" FX Bundle: With this comprehensive set of metal production tools, you can beef up your drums, treat powerful vocals, and bring heavy guitars to life.
"Golden Standards" FX Bundle: Featuring some of the most recognized effects from the Synergy Core library. These iconic recreations will be at your service to shape the fundamental sounds of jazz and classical music.
"Youth Revolt" FX Bundle: Polish your drum sound and dial in killer guitar tones with some of the must-have effects used in the production of classic rock hits of the last century.
"Keep it Real" FX Bundle: Make your kicks and your 808s really stand out with production tools that help you create the best hip-hop records.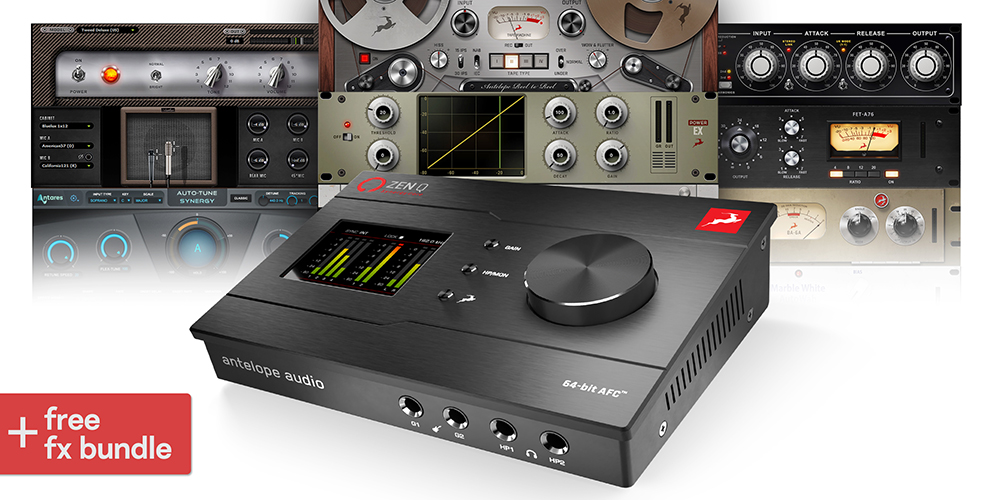 Discover the new Antelope Audio products and all the advantages of this promo at the MicroFusa stores in Barcelona and Madrid and at MicroFusa online.
---
Sepúlveda, 134. Barcelona / Tel.: 934 553 695
Campoamor, 17. Madrid / Tel.: 917 024 587