In a particularly difficult year for the music industry, at Microfusa we want to help out with a Solidarity Black Friday with the aim of contributing something to a sector that has contributed so much to us
As we explained a few days ago in this article, at Microfusa we have decided that this year it is worth looking at things from another perspective. Without concert halls or festivals or events, the landscape surrounding the world of music is quite gray. That is why we thought that it was a drawer to contribute our little grain of sand with our Solidarity Black Friday. We have partnered with the Asociación Ayuda Alimenta (AAA), an organization focused on providing support to professionals in the sector and which is responsible for directing basic aid to members of the union, especially in Barcelona and Madrid.
From November 19 to December 1, during our Solidarity Black Friday we will allocate a percentage of the profits obtained from sales to this association. All products from all categories participate in the campaign, in the entire store!
Thus, in addition to having the opportunity to get your team at an incredible price, you will collaborate with a good cause. And, to make it much easier for you, this year we have prepared special categories with unique products and incredible conditions. Discover what we have prepared for you!
This year, in our Solidarity Black Friday we have prepared a special Black Friday DeLuxe with high-end products at the best price. The best brands and the highest quality equipment with prices that you will never have seen. It is your unique opportunity to get hold of that interface, that synth or those keyboards for which you have been saving for so long.
In our Black Friday DeLuxe you will find products from the biggest brands at amazing prices. Do you want some examples?
Roland Fantom 6 is a 61-key professional workstation synthesizer featuring the v2.0 system that brings even more power to the flagship Fantom series. It combines ZEN-Core's analog modeling and PCM synthesis with deep multisampling and supernatural acoustic and V-Piano technologies. It includes dozens of space and depth effects, and an analog filter to give your sounds more heat. Adds the ability to integrate external software synthesizers, increasing sound design potential. And thanks to custom behavior modeling core processors, control is smooth and precise with loads of polyphony and full patches remaining.
Universal Audio's Apollo x6 audio interface allows music producers and post-producers to mix with the best A / D and D / A converters on the market, tracking and overdub. Offering an elegant Thunderbolt 3 Audio (Mac and PC) interface only 1 rack high. With 16 inputs and 22 outputs, they are characterized by their 2 Unison preamps that provide authentic emulations of preamps such as Neve, Manley, Helios, SSL and many more. It also works with a Hexa Core processor, with more than 50% DSP so you can use your UAD plug-ins in real time. It also has an elitist audio conversion that includes different selectable operating levels, compatible with a multitude of professional equipment at + 24dBu and also a control of monitors and integrated microphone talkback.
Summit is, of course, Novation's biggest synthesizer yet, for both stage and studio. Built on the innovative foundations of the acclaimed Peak, Summit is a 16-voice, two-part, three-oscillator-per-voice keyboard synthesizer for professional and semi-professional producers and musicians, for use both live and in the studio.
Its two-part multi-timbral architecture puts the power of two Peaks at your fingertips, allowing two completely independent parts to be split or layered across the keyboard. Additionally, its incredible dual-filter editing per part, front panel controls, and external audio input take Summit to whole new heights in terms of sound and workflow. At the heart of Summit is the New Oxford Oscillator digital oscillator, embedded in the innovative FPGA (Field Programmable Gate Array) chip.
Black Friday with a Gift
Black Friday with a Gift consists of a special selection of products that includes an extra courtesy of Microfusa with your purchase. From gift plugins, minutes of assistance with our support team, to promotional products such as software licenses or equipment such as microphones … Each product has a detail. Be curious to see what you discover. Here are some examples:
Apollo Solo USB is a desktop recording audio interface for Windows that offers class-leading audio conversion, two Unison mic preamps, and a suite of built-in UAD plug-ins for recording album-quality results in real time.
This compact 2×4 interface starts with the popular Apollo A / D and D / A conversion to outperform anything in its class. And with its Unison technology and built-in UAD-2 processing, you can record through classic studio tools, including UA 610-B Tube Preamp & EQ, LA-2A and 1176 compressors, and more, with almost zero latency.
Apollo Solo USB's Unison technology gives you the tone, feel, and "feel" of the world's most sought-after preamps. These include the included UA 610-B tube preamp, plus true Neve and API mic preamp emulations, plus guitar amp emulations from Fender and Marshall, complete with their characteristic impedance, "sweet spots" of the gain stage and components. behavior of the level circuit. When you buy your Apollo USB with us, we give you the UDG Creator case so you can take it with you everywhere.
s loved its predecessor, DJ2GO2, when it debuted in 2017.
DJ2GO2 Touch was created for all styles of DJing and is perfect for setting up your gigs, performing small gigs, and as an extra space-saving setup at large events. Tactile jog wheels take DJ2GO2 Touch to the next level. Make light to heavy scratches and mix your mix by pushing the side of the jog wheel.
DJ2GO2 Touch comes pre-mapped with Serato DJ Lite for Mac and PC (software included) and is ready for the full version of Serato DJ. For newbie DJs, Serato DJ Lite now comes with demo music and a simple tutorial that will walk you through the basics so you can start DJing right away. Built with Serato DJ Pro technology, Serato DJ Lite is designed to be intuitive, reliable, and easy to use.
When you buy this product with us, we give you the book Yo Serato, a user guide with the most important functions of Serato.
Yamaha Stagepas 1K is a 1000 W portable PA system with 5-channel digital mixer, 12-inch subwoofer, 10 1.5-inch line array speaker, Bluetooth input, SPX digital reverb, knob equalizer. single and multiband compression for main output.
A 1,000 W amplifier drives an array loudspeaker with 10 small diameter units (1.5 inches) and an unbeatable 12-inch subwoofer. The coverage area is impressive (170 ° horizontally and 30 ° vertically), providing consistent performance even at long distances and projecting high-quality sound to the entire audience, from the front row to the last.
comes equipped with a host of features for adjusting the sound, including the one-knob equalizer for multiple equalization processes simultaneously, and the MODE function, which allows optimized compression settings such as "Speech" or "Music" to suit a wide variety of applications.
All adjustments can be made simply with a single knob, making the perfect mix easily and quickly achieved without the need to learn complex workflows, so you can focus on your performance without worrying about wasting time on adjust parameters.
With the purchase of a Yamaha Stagepas 1K unit you will receive a free DL-SP1 K unit
As every year, at Microfusa we launch our Black Friday Outlet with a renewed selection of ex-demo products, refurbished, discontinued, etc. This section has been recently renewed and we will be adding products almost every day. So it's worth taking a look at it from time to time because you never know when the opportunity you were hoping for may appear. Here are some examples of the items that you can find in the Black Friday Outlet:
Roli Seaboard Rise 25 is a state-of-the-art controller keyboard that will allow you more expressiveness when playing and performing your compositions. It's a revolutionary MIDI controller that has been redesigned with a smooth, continuous surface that responds to touch. Playing with the "keywaves", the musician is free to make decisions through intuitive movements such as quick strokes, taps, sliding from left to right, or up and down. A new level of expression is made possible through the "Five Dimensions of Touch" thanks to the RISE 25. Since the Seaboard Rise is a MIDI controller, ROLI has implemented its Equator synthesizer software to the Rise system and is included with the controller.
Akai Force production center changes the rules between production and DJ technology. Merge sample launch, step sequencing, sampling, and synths from your touch screen. All this from a single stand-alone device, combining essential current features with its highly intuitive workflow, allowing you to increase your creativity and expressiveness in the studio and in live performances.
Integrated with Ableton Live, this functionality gives you full vision and control of the Ableton Clip Matrix, touch control of mixer parameters such as crossfader assignment and other Ableton Live tools also controllable from the OLED display knobs.
In addition, Force users have instant access to their Splice library via Wi-Fi connection, all controllable from the 7 "touch screen.
Presonus StudioLive 32SC is a compact, rack-mountable 32-channel digital mixer that can be quickly and easily scaled for 16-, 24- and 32-channel applications. Features a dual-core PreSonus FLEX DSP engine that powers 40 mix channels, 26 mix buses and 286 simultaneous processors, including 4 stereo reverb systems and Fat Channel plug-in models on each input channel and mix bus .
Its 16 FlexMixes can be individually configured to function as aux buses, subgroups, or matrix mixes. It offers 4 designated effects buses providing a total of 24 mix buses plus an independent solo bus and the main mix. It also provides 24 DCAs so you can control groups of channels more easily and flexibly. Inputs and buses can be freely routed internally, to your AVB network, and via the USB bus, allowing you to customize your StudioLive 32SC to suit your needs, even when they change.
In addition to offering 128 (64×64) channels of USB recording and AVB network audio I / O, flexible routing options and studio audio quality, the StudioLive 32SC provides all the tools you need, whether you are building the studio of your dreams. as if you are building a professional travel team. PreSonus StudioLive Series III digital mixers are tightly integrated with a full suite of state-of-the-art software. Mix wirelessly using UC Surface touch control software for macOS®, Windows, iPad® and Android ™.
These items are display products, so they may show marks or slight scratches, as well as some damage to the packaging or the box.
And, apart from the special categories that we have already mentioned, the Microfusa stores, both in Barcelona, Madrid and our online store will celebrate the Solidarity Balck Friday in style with incredible offers in all sections. You will have the opportunity to find a great selection of products from the best brands with special discounts. As every year, the generic Black Friday section includes our most powerful categories such as DJ, Music Production, Sound / Lighting, among others. Here is a small sample of what you can find in each category:
In addition to a wide selection of discounted DJ equipment, it's worth noting that on select DJ controllers from Pioneer DJ, Denon DJ and Roland, we include 15 minutes of technical support.
The Rane Seventy Two MKII 2-Channel Scratch Premium Mixer offers you maximum performance and maximum reliability thanks to its exceptional features:
Advanced performance control and creative options with unmatched Serato DJ Pro integration.
Steel housing and aluminum switches to ensure continued use.
A 4.3 "color touch screen interface that displays Serato DJ Pro's moving waveforms, allows navigation, track selection, FX control and extensive tools for your performance.
Multiple Fx Options: Using the metal switches, stack up to 6 Serato DJ Pro effects with the internal FLEX FX. Customizable touch control of effects via the X / Y grid with a single finger. Pad mode trigger using Fader FX or Pad FX.
Three new ultra-light MAG FOUR faders.
16 Akai Professional MPC-style pads with independent mode controls per deck, Serato control plus special modes for effects, Pitch 'n Time, transport, Silent Cue and customizable via MIDI mapping.
Pioneer DJ DDJ-1000SRT is a 4-channel controller that inherits the design of the DDJ-1000. So all the same professional features are there too, including full-size, low-latency jog wheels from the CDJ-2000NXS2 and the Slick MAGVEL FADER.
Its color On Jog Display gives you important information about the track in the center of each jog wheel. Build on the dance floor and create great drops with 4 Sound Color FX and 14 Beat FX. And with 16 high-performance multi-colored pads (8 per deck) with which you can activate various functions, such as Hot Cues, Slicer and Pitch Play, to give each track its own spin and keep your audience in ecstasy.
Musical production
Akai MPC One is a Standalone Production System to take your ideas from concept to completion of your tracks. It packs many features and workflow tools into one powerful punch: Beat programming, editing, instrument and effects mixing, and more means a no-compromise creative experience.
MPC One integrates into your creative space with all the ports and jacks you need. USB, MIDI DIN, CV / Gate, and 1/4 "line level audio input. With USB and SD card slots, you can save, transfer and share your music. And your favorite music production techniques come standard on MPC One. Tape Stop effect, Note Repeat for hi-hat and 16 levels to play those melodic 808s and more.
The Arturia Microlab is a MIDI keyboard that has only 4 buttons and 2 touch strips, MicroLab offers you an impressive level of control. Hold notes with a button, play chords with a note, scroll through presets, and press to select.
The USB port is embedded, so the cables are not separated. Use it in any situation: bring it closer to your laptop, use it with other equipment, without mess or complications. In addition, it is available in black, blue or orange.
Instruments
Roland TD-27K is an electronic drum kit that brings the surround sound and response that only V-Drums can provide. The kit has a spacious acoustic-style design that combines the powerful features and fully customizable performance of the TD-27 sound module with the excellent sensing and playability capabilities of Roland's famous analog V-Pads.
The built-in Bluetooth connection lets you play audio wirelessly from your phone or laptop on the module, making it easy to use headphones to play music. Practice your favorite tracks or mix your YouTube video course sound with the toolkit. The built-in teaching function helps you develop technology and record progress, while the advanced metronome lets you use the internal clock. And you can always record your performance and listen to it to understand what you need to strengthen.
Microfreak is a paraphonic vocoder synthesizer with 14 digital oscillator modes, velvety analog filters, and tons of modulation / randomization controls, supercharged with incredible voice-coding abilities.
Featuring an all-new 16-band mode to transform your voice in the strangest way possible. The vocoder engine features 3 waveforms: sawtooth, pulse, and noise, while the Timbre and Shape knobs adjust the response of the 16 frequency bands. MicroFreak Vocoder Edition goes beyond a robot voice. 16 new presets give you instant access to android translations, crystal harmonies, and vibrant formant sequences galore.
Sound and Lighting
Yamaha DXR15 MKII powered loudspeaker achieves impressive performance with a maximum sound pressure level of 134 dB and full bandwidth thanks to the combination of a powerful Class D amplifier with a high-power bass unit and state-of-the-art technologies. from Yamaha. And if we add the D-CONTOUR processing to this, we will have the feeling of using a subwoofer.
The LED Kit Sagitter Led Kit 3C series consists of a set of color-changing portable LEDs, suitable for any user, experienced or inexperienced. A practical 3-foot stand (included) holds the lightbar, a foot pedal ensures control of the entire system, and two practical bags (included) help you transport it.
It has 4 LED sources of 10W with RGBW 4 in 1 with full color technology. Its high power and the sum of the white color make this kit ideal for entertaining in closed spaces. It comes equipped with two adjustable side supports.
For the most demanding users, there is a control that operates via DMX and gives the possibility to fully customize all the functions of the system.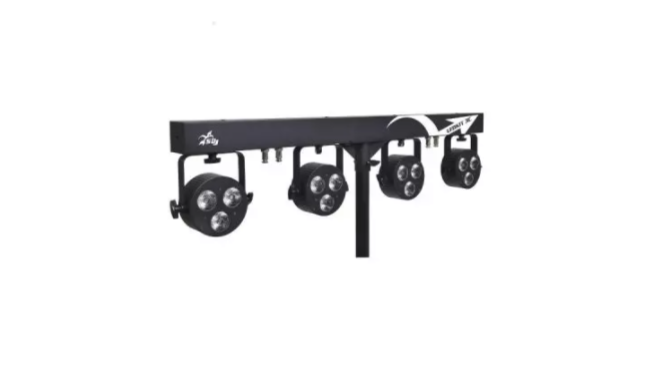 Video and Podcast
LEEZEN MIC01 is a professional-quality condenser microphone that connects directly to a USB port on your computer to add not only a studio microphone, but also a 24-bit / 96 kHz audio interface that will make your recordings sound like never.
The MIC.01 has a dedicated Mute button, as well as rotary controls for gain and volume. A convenient MIC / USB control allows you to balance the mix between the microphone signal and the audio signal from the computer. The convenient headphone output lets you monitor what you're recording along with previously recorded tracks. The package also includes a desktop microphone stand and a handy pop filter that will keep those plosive vocal sounds out of your recordings.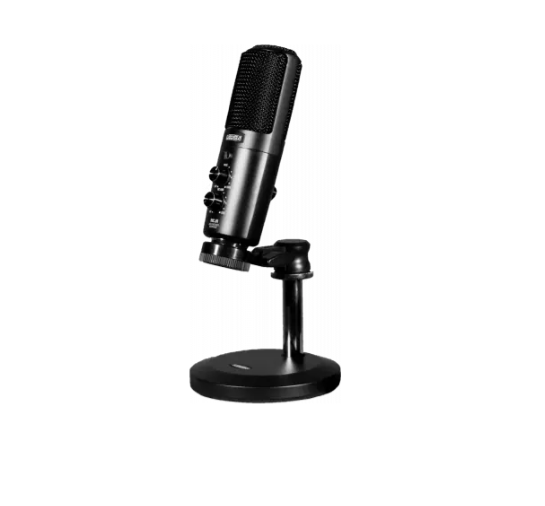 Audio Technica Creator Pack is the perfect online content starter system to get started in the world of podcasting. The ATR2500x-USB microphone can be hung on the included articulating boom and has an excellent frequency response that can pick up the subtlety and tone of sound, while cardioid directivity can help you isolate yourself without the need for a soundproof booth. In addition, the updated ATH-M20x headset has stronger bass, better sound isolation, and better sound reproduction to ensure that you can accurately hear the sound picked up by the microphone.
Accessories
Kanto SP9BK desktop speaker stands put your speakers in better alignment with your ears, allowing you to capture a wider range of frequencies. Its heavy steel frame and closed cell foam padding further enhance near-field hearing by significantly reducing vibration, giving you cleaner, more accurate sound.
They include two sizes of top plate, each with 30 degrees of rotation and with a mounting hole and a 1 / 4-20 screw to secure compatible speakers in place. For a neat setup, they incorporate interior cable glands.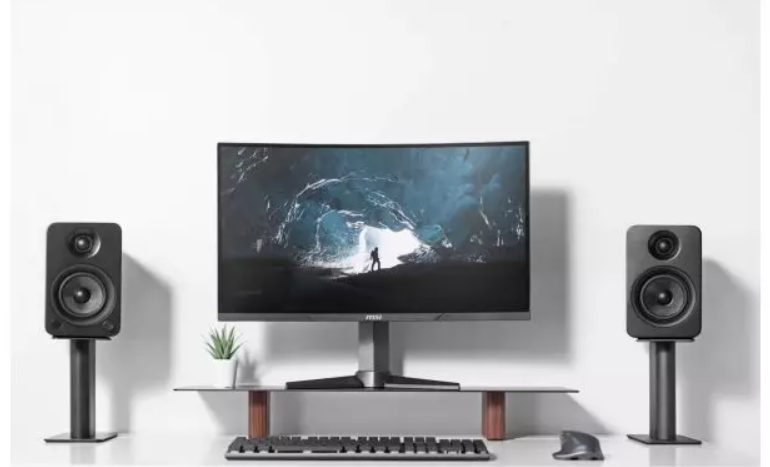 Double height stand for two keyboards. Height adjustable to suit your needs and in black finish.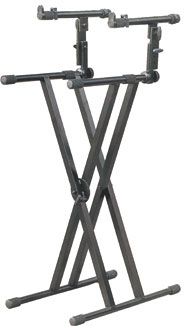 DJ Accessories
Magma Riot DJ Backpack XL is the ideal DJ gear carrying backpack. Made of robust and 100% waterproof fabric, waterproof PVC covered handles, zipper expansion system to increase storage volume, versatile interior design with removable foams, divider and protector panel, fully deployable main compartment, lockable handles, two zippered pockets. accessories with numerous mesh compartments, ergonomic back panel and shoulder straps, chest strap, corner protectors, rubber base. Compatible with the hand luggage requirements of most companies.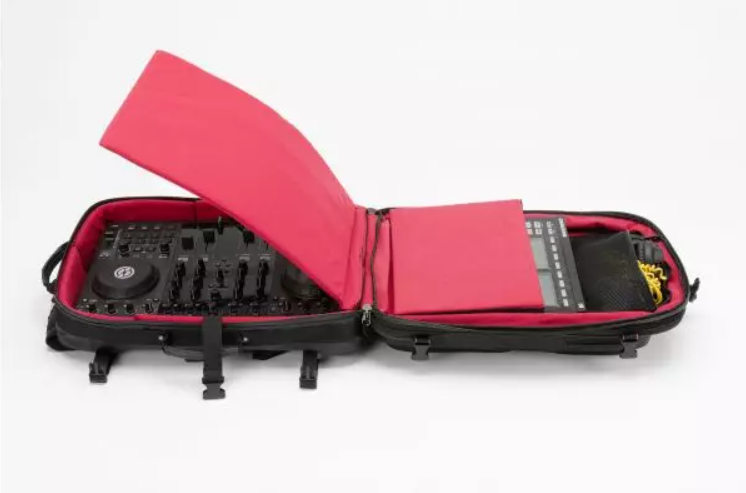 Decksaver Pioneer XDJ-1000 is a protective case for the Pioneer XDJ-1000 and XDJ-1000 MKII player.
But at Microfusa we have a wide selection of covers, suitcases, descksavers, etc. for all the DJ equipment in our catalog.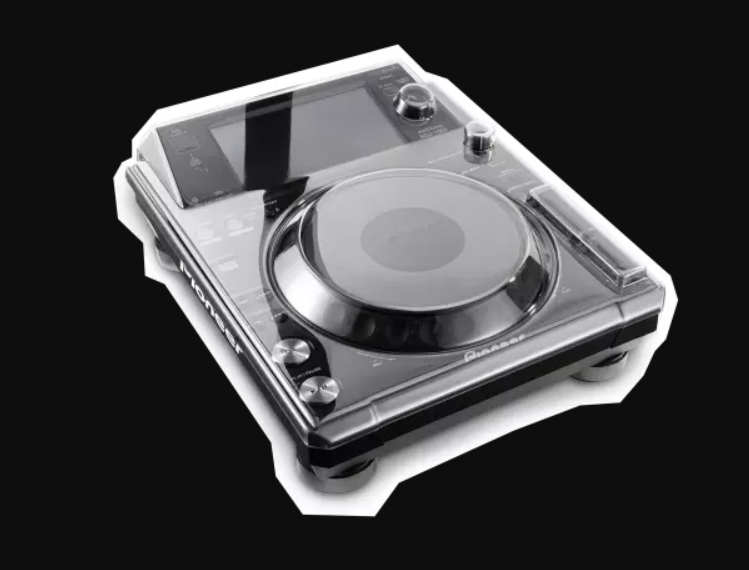 Audio-Technica ATH-CK3TW Black are Audio Technica's True Wireless headphones with which your ears will enjoy high quality sound without cables. Connected via Bluetooth 5.0 aptX to your smartphone or tablet, these in-ear headphones will provide you with powerful and accurate sound.
Kanto YU2 is an active loudspeaker with a clear and powerful sound thanks to its 3 "Composite driver and its 3/4" silk dome tweeter. Armed with a Class D amplifier rated at 100W max power, the YU2 will have you wondering what the word power really means. It also includes a phono preamplifier that will make it easy to play your songs directly from any vinyl turntable.
Thanks to signal detection from the automatic standby and on modes, it ensures you never miss a beat when the music starts playing.
The Kanto YU2 active speaker range has a wide selection of colors: Bamboo, Glossy Red,  Matte Black and Matte Grey.
As we told you at the beginning, this is just a sample of the great selection of discounted products that you will find these days in our Solidarity Black Friday. Do not miss this opportunity to get these incredible offers while you collaborate with a just and supportive cause.
---
Sepúlveda, 134. Barcelona / Tel.: 934 553 695
Campoamor, 17. Madrid / Tel.: 917 024 587