With the imminent launch of Ableton Live 11 during this first quarter we have prepared a series of video tutorials to show you its most interesting features
Last November Ableton announced the launch of the new version of its famous Live 11 production software, during the first quarter of 2021. If you remember, we have to go back to February 2018 to talk about the launch of Ableton Live 10 and they had to Five years have passed since the previous version, Ableton 9. Now, after three years of waiting, this new version is loaded with new features. New features and enhancements designed to make the recording and production experience even faster, more intuitive and straightforward.
Ableton Live 11 Highlights
A good part of the news that this new version of the famous music production software brings us will delight fans of electronic music thanks to a much more native support of concepts such as randomness or the expressive resources of MPE, or with sound transformers from spectral and resonator techniques that are incorporated as part of the standard devices and without having to resort to extensions via Max4Live or third-party plugins, with the convenience that this implies.
But the more traditional production will also be in luck since Live 11 paves the way so that all kinds of projects can be attended in all their phases without abandoning the software. Also noteworthy is the collaboration with Spitfire Audio on the none-electronic upright piano, brass quartet, or string ensemble sounds.
But let's see the main improvements:
Comping
Function compatible with audio and midi tracks with which we can record several takes of a voice or an instrument. Afterwards, we can choose the parts that interest us to get a perfect shot.
Link tracks
With the Link Tracks function we can group several tracks together. In this way, any editing that we apply to one will affect the rest of the linked tracks.
MPE support
Ableton Live 11 is compatible with MPE (MIDI Polyphonic Expression) keyboards and controllers and some native instruments such as Wavetable or Sampler already offer full integration with this new standard.
Follow Actions
If you are a lover of risk and experimentation, you will enjoy the improvements that Live 11 incorporates in its Follow Actions, such as its integration into the scenes.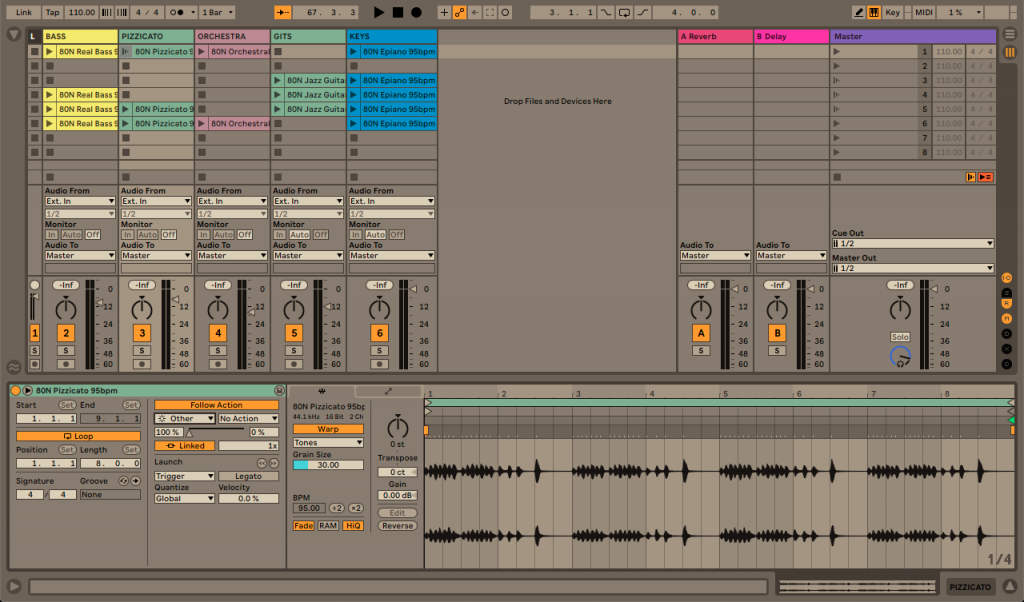 Follow Tempo
One of the most remarkable features of this version is that it makes the CPU listen to the tempo and adapt to it. You can use an external audio source for Live 11 to sync its tempo.
Macro controls
Ableton Live 11 expands its macro controls up to 16. In addition, we can enjoy a new Random function to generate random values ​​in macros and we can also create several snapshots that allow us to preserve control configurations on Live tracks and devices to be able to recover them instantly.
MIDI clip enhancements
Ableton Live 11 integrates the ability to add escalations within a MIDI clip. It also has a probability control that will allow us to control how possible it is that a certain note sounds or not.
New devices
Live 11 introduces us to new effects:
Hybrid Reverb, which combines an algorithmic reverb and a consolation reverb in the same plug-in.
Spectral Resonator, which allows us to make transformations in different sounds as well as being able to use it as a midi instrument.
Spectral Time, similar to the previous function but based on the detection on the spectrum of the partials of the audio signal.
Inspired by Nature, six instruments and effects that use natural and physical processes for inspiration. Created in collaboration with Dillon Bastan.
Enhanced devices
Chorus becomes the Chorus Ensemble, featuring a wide range of modulation shapes.
Redux presents a range of digital equipment sounds including textures, distortion …
Phaser and Flanger are combined into Phase-Flanger, allowing you to modulate and modify the frequency in a more intuitive way.
New sounds
In this version the sounds section is also expanded:
Voice Box: capable of displaying vocals across various vocal instruments and with effect racks.
Mood Reel: Features organic and synthetic sounds, a perfect tool for creating textures.
Drone Lab: allows you to create ambient textures, white noise, and the like.
In collaboration with Spitfire Audio are born: Brass Quartet, String Quartet and Upright Piano.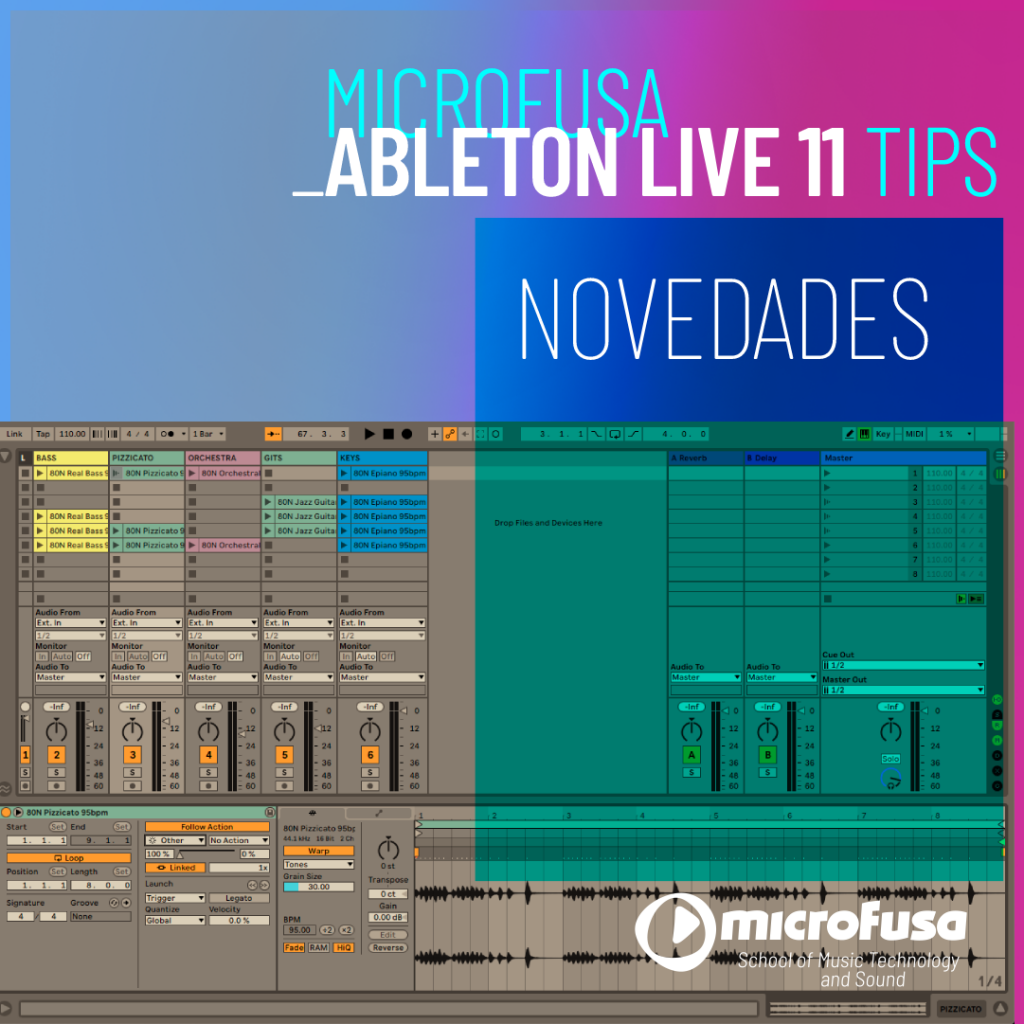 Want to know everything about Ableton Live 11? Attentive to the Microfusa Video Tutorials
In order to present you with the most interesting and remarkable features of this DAW, we have programmed a series of video tutorials by our Certified Trainer and techno-pedagogical designer from Microfusa Formación, Ramir Martínez.
We will be presenting these video tutorials weekly on our YouTube channel, so don't miss them! We will publish the 1st next Monday, January 25, 2021.
Ableton Live 11 Video Tutorial Programming
25.01.2021 – HYBRID REVERB
01.02.2021 – FOLLOW ACTIONS#1
08.02.2021 – FOLLOW ACTIONS#2
15.02.2021 – PROGRAMACIÓN MIDI#1 (VELOCITY RANGE)
22.02.2021 – PROGRAMACIÓN MIDI#2 (RANDOMIZE)
01.03.2021 – PROGRAMACIÓN MIDI#1 (PROBABILITY)
And if you want to learn more about this software, remember that the Microfusa School has available the official Ableton course, Ableton Live 101, or the video course How to do a Live with Ableton.
---
Ronda Guinardó, 65. Barcelona / Tel.: 934 353 688
Paseo de Juan Antonio Vallejo – Nájera Botas, 59. Madrid / Tel.: 917 024 592