Are you looking forward to enjoying a good musical event in Barcelona this winter?
Well, it's just around the corner, and at Microfusa we are delighted to be able to celebrate the Winter Festival 2022 of mFLive.
You can already book the 24th (Barcelona) and 21st (Madrid) of February not to miss our Winter Festival 022. A showcase of emerging urban music artists.
The protagonists, our students; artists, groups, sound technicians ….  As well as guest artists.
In this edition we invite you to participate by supporting emerging artists, voting and sharing your favourite group on social networks.
For your support, you will participate in our prize draw for a pair of helmets.
https://www.microfusa.com/tienda/aiaiai-tma-2-move-xe-wireless.html
The Microfusa Barcelona Festival at Sala LAUT, will be open to the public and complying with all health regulations against COVID-19 for events, forces us to limit the capacity, to attend it is essential to sign up here : Eventbrite.
The Microfusa Madrid Festival at Sala Siroco will be in virtual format, broadcasted by our channel on twitch.tv/microfusa.
Follow us on social networks, all the performances will be recorded in high quality both in video and audio so you can enjoy the re-editions that will be screened later.
Remember to vote for the best performance!
Discover the variety of emerging artists that will be participating in Winter Festival 022: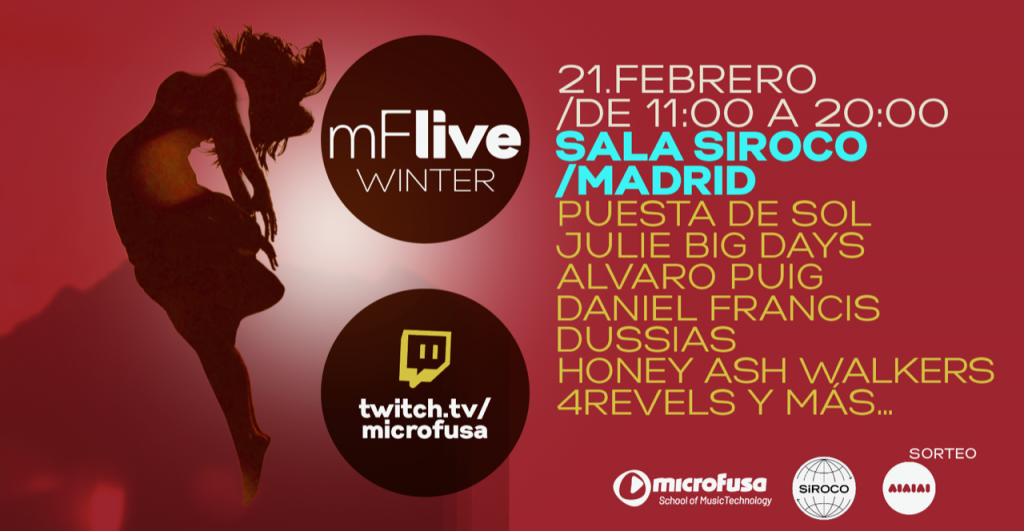 Mantra: Indie Pop Band
This pop-rock band was formed by Franc and Jaume Prohens in early 2020, between Mallorca and Barcelona. Mantra is made up of four young Mallorcans between 20 and 30 years old who already have experience and a career in professional music:
Franc Prohens (21, vocals and lead guitar, author of the songs).
Jaume Prohens (20, guitar and backing vocals, co-author of several songs).
Mateu Del Río (29, bass).
Cristian Ibarra (27, drums and backing vocals).
Mantra's style, very current, is nourished by the most select international pop and rock of all times (Beatles, Coldplay, Killers, Bowie, Oasis…), basing their own repertoire on melodic songs in English full of strength. Pay attention to these songs, as they will give shape to their debut album as a band, which is already recorded and in the process of being released.
It all started at the beginning of 2020, when Franc and Jaume Prohens, who were studying in Barcelona, got down to work on the band's first songs. After the pandemic quarantine, and already in Mallorca, most of the songs on this first album were created, and during the summer the rest of the band joined in.
Since then, they have not stopped, even recording a Live Session presenting "This Is Mantra" in the Municipal Auditorium of Felanitx (Youtube), being interviewed by some media and performing in several parties and events, and they were classified as semi-finalists in the Pop-Rock 2021 contest of the City Council of Palma.
Today, they are about to release the first single from their album "All I Need", mixed at Microfusa Barcelona, which will be released this February. Their enthusiasm is understandable!
If you want to follow Mantra on social networks or learn more about their work:
Instagram (@mantra_rnr)
Youtube: https://youtube.com/channel/UCitHDITy3G8OQodA3a1wb5w
Spotify: https://open.spotify.com/artist/08KLzs76WH3LWNSPTYz3w0?si=6BWgSXE-S6OdlXBeREjthg
Opus Pain: Punk band
This band formed in 2019 in Castelldefels, was born with the purpose of making simple music with no other pretension than having a good time. But over time the involvement in the project grew, and as both the music and the band's live performances were well received, they decided to record the LP they are currently working on.
As for Opus Pain's influences, each member of the band has their own, resulting in a very personal sound that distinguishes them. To get an idea of this cocktail of influences, they include Los Demarras, La Polla Records, Melendi, El Canto del Loco, Pignoise, Guns n Roses, Estopa, Muse, Arctic Monkeys, Avenged Sevenfold, Desakato, Red Hot Chilli Peppers, Marea, Extremoduro and La Raíz.
Currently, Opus Pain's main purpose is to make people laugh with their lyrics and live performances, satirizing everyday life and making a difference. You'll have to see them!
Instagram: @opuspain
https://www.instagram.com/opuspain/?hl=es
YouTube: Opus Pain
https://www.youtube.com/channel/UCK3BldOjb94ER3KX6zK9qYw
Spotify: Opus Pain
https://open.spotify.com/artist/011c1z4h5qXlPlhpQ6NKj8?si=-rsBDiPnSTuanIRtF0thSg
Pirata: Live Performance
His name is Acro, although he is known as Pirata. He was born in St. Petersburg, Russia, but his ancestry is a cocktail of Cuban and African genes. As a child he grew up in an environment dominated by music and dance, which determined his education in schools, institutes and conservatories.
This prepared him for the creation of soundtracks unifying electronic, Techno & House and EDM as main genres. To do so, he uses pianos, pads and controllers, creating a show immersed in the pirate era that can be enjoyed at Microfusa's Winter Festival 2022.
Social networks: @acrodancon
DJ Dkuul
DJ Dkuul is the creator of a hypnotic fusion of Tech-House beats with a dash of pop to make you dance. He defines himself as a dreamer, but one of those who turn his dreams into reality. He started early in the world of music and dance at the age of 15, and now at the age of 22, he is already a DJ Producer who has matured and continues to improve his craft.
DJ Dkuul's motto is: "If you can dream it, you can do it". This is also helped by his freshness and experience, as well as his passion for challenges. If you don't know DJ Dkuul yet, now is definitely the time.
Social media: @dkuul_sousa
The artists mentioned above are not the only ones who will be performing at the 2022 Winter Festival in Barcelona, and equally great talents such as DY Flow (Urban), Lalzki (Pop Indie Artist), and Corderas (Urban) must be added to the list.
What is certain is that Winter Festival 2022 promises intense hours of music, dance and fun: a good formula to raise the temperature in winter. Are you in?
MICROFUSA / BARCELONA SCHOOL
Ronda Guinardó, 65. Barcelona / Tel.: 934 353 688
MICROFUSA / MADRID SCHOOL
Paseo de Juan Antonio Vallejo – Nájera Botas, 59. Madrid / Tel.: 917 024 592
MICROFUSA / ONLINE TRAINING