Solid State Logic is the world leader in analog and digital audio consoles. Today at Relodad we present one of its most emblematic studio controllers, the SSL UF8
In 1969, Colin Sanders, a visionary 22-year-old engineer, founded Solid State Logic with the goal of building electrical switching systems for church organs. It was in the description of these early products that Colin coined the phrase "Solid State Logic."
A few years later he founded Acorn Studios and began working on the design of his own consoles. In 1976 he created the first A-Series console which he soon renewed as the SL 4000 B Series. Colin built six B-Series consoles and thus began SSL's international projection.
1979 saw the launch of the SL 4000 E series that totally transformed the music recording industry and whose variants, the SL 4000 G, 6000, 8000, 9000J and 9000K series have dominated the professional recording studio industry for two decades.
In 1985 Solid State Logic launched its R&D department. Its first launch was an eight-channel recorder / editor whose technology would give birth to the A-series range of digital consoles, launched during the 1990s, and which it spanned applications from music production to broadcasting and post-production.
Since then, constantly innovating in audio consoles and SSL video production systems has become the world leader in analog and digital audio consoles and provider of creative tools for film, audio, video and broadcast professionals. Today, more than 3,000 studios and facilities around the world are equipped with Solid State Logic, and the excellence of their consoles is recognized for unsurpassed sound quality, excellent ergonomics, outstanding automation, and an unsurpassed international support infrastructure.
Today we present one of the crown jewels, the Premium Studio Controller for DAW SSL UF8.

Solid State Logic UF8 is a premium finish touch USB studio controller with SSL quality. Designed for today's DAW-based production workflows with lightning-fast response times.
UF8 controller can simultaneously control multiple DAWs thanks to its integration with major music applications and includes ready-made template workflow for Ableton Live, Cubase / Nuendo, Pro Tools, Logic Pro X, Studio One. A feature highly demanded by producers and engineers who prefer to divide their creative process across multiple DAWs. It is precisely here that UF8 is especially flexible and promotes the Open DAW policy of SSL.
The UF8 also has 8 high-quality 100mm motorized faders and 8 V-POT encoders found on the SSL AWS and Duality consoles, as well as 8 high-quality color TFT LCD screens that provide clear visual feedback. It also features a multipurpose Master Encoder for DAW timeline navigation, Track Banking, and mouse wheel emulation for convenient and precise control, plus dual-purpose selection keys that allow quick access to functions. selected; Solo and Mute in Pro Tools ® and Logic Pro X ®.
And if the 8 channels of the SSL UF8 are not enough, you can connect up to 4 UF8s in the same system to create a 32-channel controller thanks to the Thru USB type A connection that connects to the next controller through the USB connection of type C.
Finally, we have its nerve center, the SSL 360 °. It is a cross-platform application for Mac and Windows that allows you to configure one or more UF8s for your DAW, customize user keys and save / load profiles. It also includes full licenses for the Vocalstrip 2 and Drumstrip plug-ins, highly regarded professional-quality SSL Native drum production and vocal tools suitable for music, audio and post-production tasks.
UF8 Features
High-quality 100mm touch-sensitive faders
High resolution color displays
Full metal case, finished with a brushed anodized top plate
8 rotary encoders
Custom workflows with 43 assignable keys per UF8
5 banks of 8 user keys + 3 hot keys
Multipurpose Smart CHANNEL Encoder
Mouse scrolling emulation; control of any plugin parameter you hover over with absolute precision
Hi-Speed USB Connectivity
SSL 360 ° software requirements
Mac – 10.13 (High Sierra) or higher
Windows: Windows 8.1 (64 bits) or Windows 10 (64 bits)
Intel 3rd Gen Core i5 CPU (or comparable AMD processor) running at 2.4 GHz or higher
8 GB of RAM or more recommended
Internet connection for software updates from the SSL 360 ° application
Compatible DAWs
The following DAWs are officially UF8 compliant and have dedicated SSL 360 ° profiles. Solid State Logic recommends working with the latest major version and the maintenance version of your DAW compatible with your operating system.
Pro Tools®
Logic Pro X®
Cubase ™ / Nuendo ™
Ableton® Live ™
Studio One®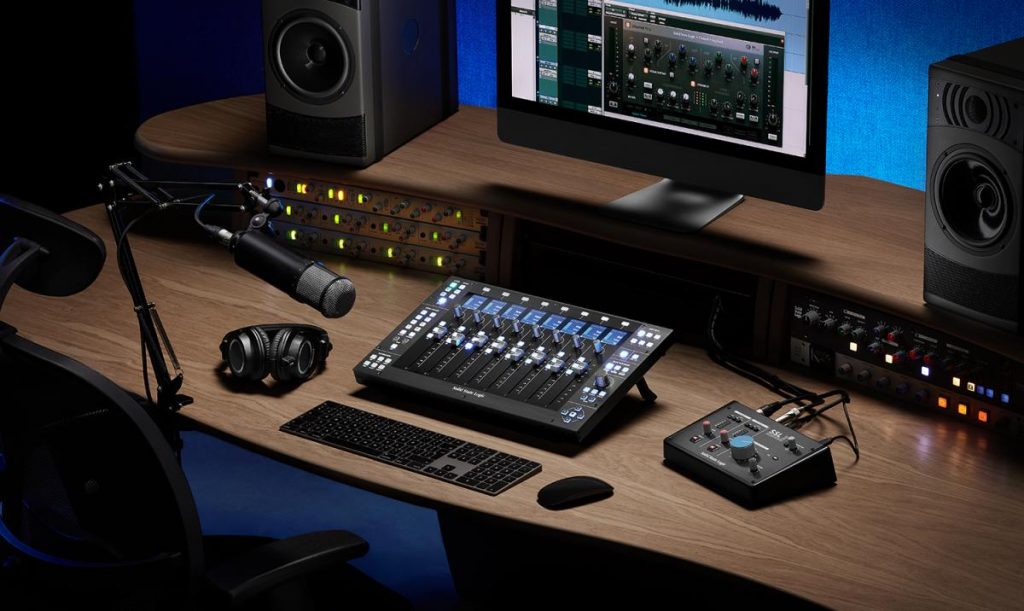 Internationally renowned artists, producers and sound engineers choose SSL equipment to extend their creativity and ensure the highest possible quality of their productions. In Microfusa we are SSL distributors and in our stores in Barcelona and Madrid as well as in Microfusa Online you can advise with our specialists and buy the entire range of products of this brand.
---
Sepúlveda, 134. Barcelona / Tel.: 934 553 695
Campoamor, 17. Madrid / Tel.: 917 024 587