This year, the entire month of November is Black November at MicroFusa. We will have "Flash" offers throughout the month. Today we present you 5 interesting monitor options to renovate your studio
At MicroFusa we don't want you to have to wait for Black Friday to make your purchases with the best discounts. That is why throughout the month of November we have organized Black November at MicroFusa. Throughout the month we will be announcing different "Flash" offers on musical instruments, DJ equipment, music production, professional audio, microphones, accessories and much more. And, as usual, from the best brands such as Arturia, Antelope Audio, Universal Audio, RANE, Pioneer DJ, Denon DJ, KRK, Native Instruments, AKAI Professional, Roland, Shure, SSL, Tascam, RODE, Godín Guitars, AKG, Allen & Heath and many more.
One of the first "Flash" offerings that we have prepared for this Black November from MicroFusa includes some of the best studio monitors from brands such as Yamaha, EVE, Monkey Banana or Leezen. In our Flash Offers section of our Black November you will find all the available models, but today we present you some of the most interesting monitors, ideal for renovating your studio at an incredible price:
EVE Audio SC203
With the EVE Audio SC203 monitors, Eve wanted to bring the sound quality, low distortion and high resolution of the now famous AMT tweeter to a speaker with a much smaller form factor. This process has required extensive research and development work to find the perfect solution. In the end, as a result of this work, a new tweeter was born that is used exclusively in the SC203, the new μA.M.T.
EVE Audio SC207
EVE Audio SC207 is a 6.5 "active monitor ideal for many types of rooms. Its 6.5 "SilverCone woofer gives you an extended response of up to 44Hz, for compact and dynamic bass, along with the usual higher linear excursion. It also has a PWM amplification section, with protection limitation and capable of delivering 150W. The maximum output level of 106dB (SPL @ 1m) to be able to make critical and accurate judgments about your mixes. Proprietary AMT RS2 ribbon tweeter with higher output level due to a larger magnet system inside.
And it offers a high-resolution DSP for precise control over various filter sections, volume control, phase and balance adjustments directly from the front panel of the speaker using a single, high-precision knob. Optimized bass port design with large soft-corner rectangular rear port.
Monkey Banana Gibbon Air Black
Monkey Banana Gibbon Air Black are a pair of 4 "active monitors with Bluetooth technology. A near-field monitoring system with one active and one passive loudspeaker, equipped with a 4 "polypropylene woofer for the low frequency range and a ¾" silk tweeter.
Extremely compact, they are a good choice for small monitoring environments or as a second monitoring solution. With their modern and stylish housing, they are also a good choice for a wireless HIFI system in the office, for TV / Game consoles or just for good listening at home.
In addition, you can also find them in red or white.
Yamaha HS5 MP
Yamaha HS5 MP are a pair of 5 "monitors from Yamaha's HS MP series. In 2019 the Japanese brand celebrated the 50th anniversary of the Pro Audio Division, offering a special limited edition model of its HS series: the HS MP models.
Maintaining the same rigorous design principles that have traditionally guided Yamaha designs, the HS MP series is marketed in a packaging with both units of the pair and adorned with the label "MP" (Matched Pair in English, which means " paired units "). The two speakers have matching serial numbers and are manufactured in a unique production process using specially selected parts.
LEEZEN MON01
The LEEZEN MON01 is a 5 "bi-amped active studio monitor specially designed for desktop / near-field use. Equipped with a 5 "Kevlar woofer and a 1.5" ribbon tweeter, the LEEZEN MON.01 delivers 40W (RMS) of power in the bass and 30W (RMS) in the treble. An acoustic space selector located on the back of the speakers allows you to adjust their behavior according to the physical conditions of your studio.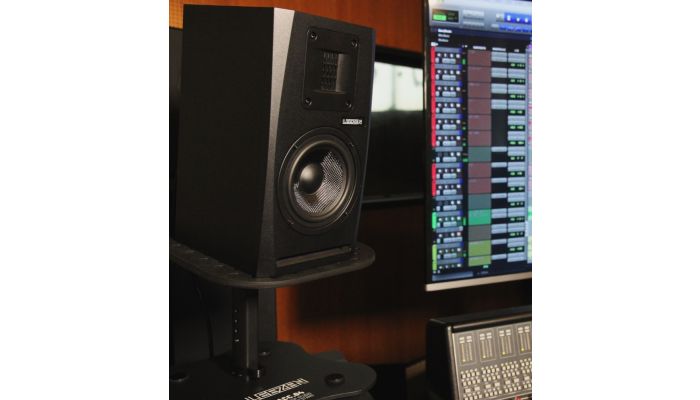 We hope you found our selection of monitors interesting. And remember that in our Flash Offers section of our page this Black Friday, you will find not only many more studio monitor offers. You can also discover many other products from the world of audio. Do not forget to visit the page throughout the month and be attentive to our social networks to be informed of the news.
---
Sepúlveda, 134. Barcelona / Tel.: 934 553 695
Campoamor, 17. Madrid / Tel.: 917 024 587