April Blue Week is here dedicated to microphones. With incredible packs at special prices and interesting gifts
Still mired in the uncertainty of the pandemic, from Microfusa we have decided to make the easier ones by doing our bit with the Blue Weeks. Special Weeks, each one dedicated to a different theme that will have different benefits. Each week will come with different advantages: discounts, gifts included in the purchase, special packs, etc. Each week will have its special benefit.
We started this project last March with a Blue Week dedicated to monitors. And this April will be the Special Week of microphones with gift accessories or at special prices.
In this promotion you will find microphones from major brands such as Shure, Rode, Takstar, Neumann, Proel, IK Multimedia, Sennheiser or Leezen, among which we can highlight:
Shure MV7
Shure MV7 is an analog / digital microphone inspired by the legendary SM7B. A dynamic microphone with USB and XLR outputs that can be used for computers and professional interfaces, ideal for podcasting. Through its USB connection and the different options of the ShurePlus ™ MOTIV application, you can control the pitch and distance according to your needs.
Available in two versions: The Shure MV7 S Silver and the Shure MV7 K Black.
Rode Wireless GO is the world's smallest and most versatile wireless microphone system. The transmitter functions as a lavalier microphone or the world's smallest beltpack, sending crystal clear broadcast quality audio via 2.4GHz digital transmission to the camera's ultra-compact receiver, automatically pairing in 3 seconds.
Optimized for short-range operation in dense RF and Wi-Fi environments, it also offers a line-of-sight range of up to 70 meters. Additionally, the TX transmits broadcast-quality audio on its own, thanks to the excellent isolation and transparency of the built-in condenser microphone, or with a lavalier microphone via the 3.5mm TRS input.
Takstar GX6 is a USB microphone that adopts three 16mm condenser capsules with clear and natural sound quality. It supports four adjustable recording modes (stereo, cardioid, bi-directional, and omnidirectional) and comes with a built-in low-noise, low-power microphone amplification circuit, and adjustable microphone input gain. In addition, it offers a built-in headphone amplifier, independent monitoring volume control that meets monitoring requirements. It has USB digital transmission, plug and play.
Sennheiser e 845 is a supercardioid dynamic vocal microphone, which helps reduce feedback. Ideal for presentations, conferences, choirs, rehearsal rooms and stage. Easily removes ambient noise and has excellent high-frequency reproduction.
Neumann KMS 104 Nickel is a cardioid condenser microphone designed for vocalists seeking the highest quality. Its frequency range is from 20Hz to 20kHz with an impedance of 50 Ohms. Includes clamp and carrying bag.
Blue Dragonfly is a large-diaphragm condenser instrument microphone that offers silky highs, well-profiled mids, and a high-bass peak that boosts weaker signal sources. Its innovative design, with its integrated suspension and rotating head, allows fast and precise microphone positioning.
Blue Dragonfly is ideal for capturing high-frequency sources, such as alto and soprano voices, percussion, electric guitar, cymbals, strings, and other sources considered "difficult".
Discover all the microphones of this Blue Week
Here are the models by brand participating in this April Blue Week dedicated to microphones:
Shure:
Rode:
LEEZEN:
Takstar:
Neumann:
Proel:
IK Multimedia:
Sennheiser:
Blue: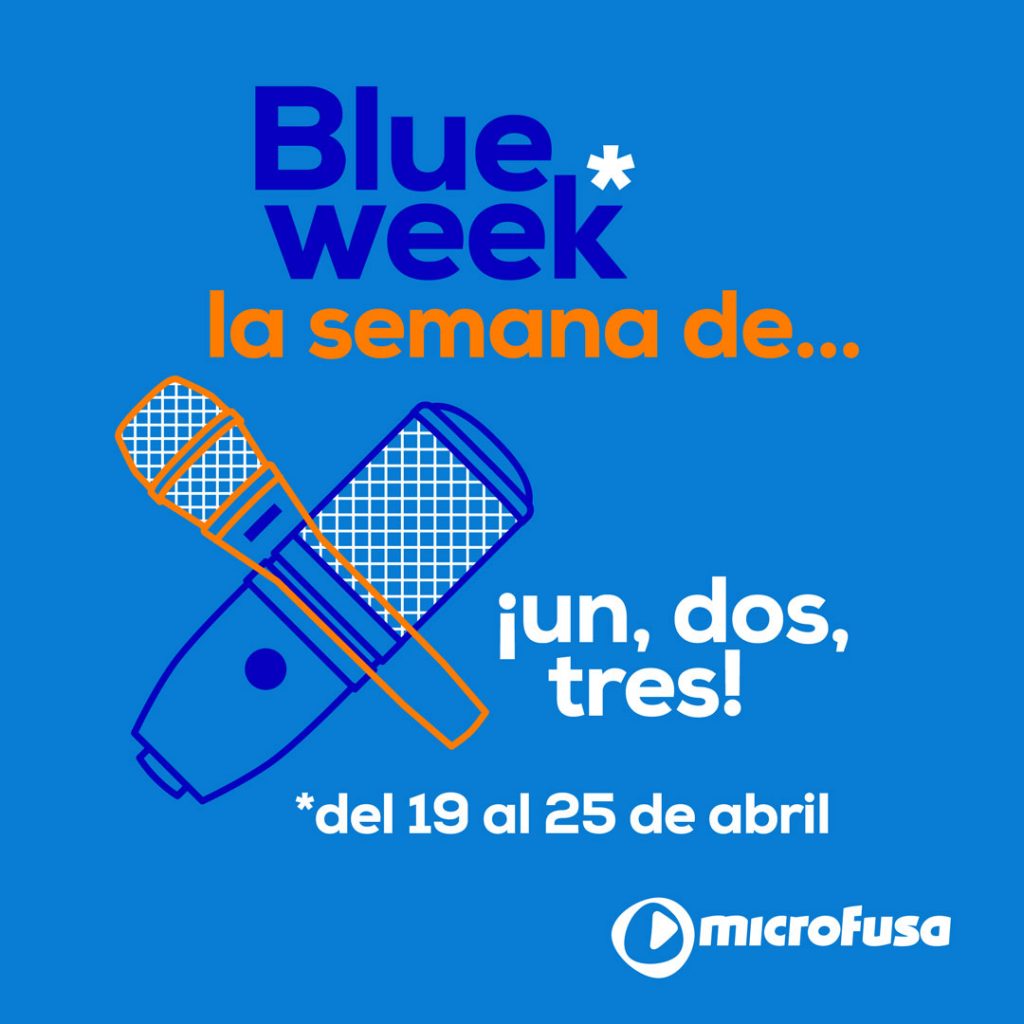 Advantages of April Blue Week – Microphones
During this Blue Week in April you will find various microphones with special advantages. In some models they will be packs at a very special price. In other cases, the purchase of the microphone is accompanied by a gift. These are the add-ons you can get:
If you want to know everything about this incredible promotion, you just have to visit the Blue Week page. And don't forget to keep an eye on the blog and our social networks to discover the surprises we have in store for the next Blue Week.
---
Sepúlveda, 134. Barcelona / Tel.: 934 553 695
Campoamor, 17. Madrid / Tel.: 917 024 587