Christmas is coming with Secret Santa and exciting gift exchanges. Anyone who is passionate about music in the family or among your friends? At Microfusa we offer you hundreds of ideas that fit all budgets
This Christmas is going to be a little different. We're not really sure what they're going to be like yet. But what we do know is that there are going to be many gifts. There are always gifts! Secret Santa, Santa Claus, the Magi, we have a lot of excuses to look for the perfect gift for our family and friends. And at Microfusa we have prepared a special selection of gifts for all budgets. In addition, to make it easier for you, we have divided the website into three sections:
So that finding the perfect gift for your music lover fits perfectly in your pocket.
And so that you can collect ideas, here are some of the articles you can find:
Arturia Microlab is a MIDI keyboard with an embedded USB port that allows you to use it in any situation. With just 4 buttons and 2 touch strips it gives you an impressive level of control. With Arturia Microlab hold notes with one button, play chords with one note, scroll through presets and press to select.
Leezen MON.02 bi-amped active studio monitor is specially designed for desktop / near-field use. Equipped with a 5 "Kevlar woofer and a 1" natural silk dome, it offers 40W (RMS) of power in the bass and 30W (RMS) in the treble.
Allows direct connection of your sound sources via XLR and 1/4 "TRS line input connectors that can be used in balanced or unbalanced mode. And an acoustic space selector located on the rear of the speaker allows you to adjust their behavior according to the physical conditions of your study.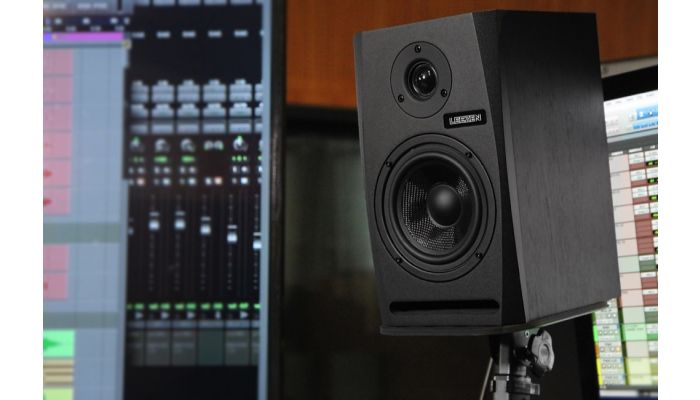 Takstar GX6 is a USB microphone that adopts three 16mm condenser capsules with clear and natural sound quality. It supports four adjustable recording modes (stereo, cardioid, bi-directional, omnidirectional) and comes with a built-in low-noise, low-power microphone amplification circuit and adjustable microphone input gain. It offers a built-in headphone amplifier, independent monitoring volume control that meets the monitoring requirements. It has USB digital transmission, plug and play.
Numark DJ2GO2 Touch is a pocket-sized, portable DJ controller with a built-in sound card and Serato DJ Lite software and with the ability to scratch on capacitive touch jog wheels.
With a built-in driverless audio interface, a 1/8-inch headphone output, and a 1/8-inch main output, you'll keep your mix on point and effortlessly connect to virtually any mixer, speaker assets and audio recorders.
With 8 pads and four pad modes for full control of cue points, auto / manual loop, and sample playback, DJ2GO2 Touch gives you the same access to performance controls typically only found on larger controllers.
Compact Audient EVO 4 USB audio interface incorporates the new EVO high-performance microphone preamps, with a gain range of 58 dB and which are capable of offering a precise, warm and clean sound, converters of the highest quality with a dynamic range 113 dB as well as DI JFET, Smartgain, Smart Touchpoints, speaker and headphone outputs, ultra-low latency, monitor mixing and loopback functionality, an impressive feature for its price range.
Korg Volca Nubass is an analog bass synthesizer with a sound source based on a vacuum tube oscillator that delivers powerful acidic bass, representing the classic Acid sound. It is the first analog synthesizer equipped with a new generation Nutube valve in its oscillator. More analog vacuum valve translates to a warm, thick and rich sound. The scaled filter offers the character of classic bass machines, along with overdrive and massive distortion.
It contains two triodes: one is used in the oscillator to generate a sawtooth or square waveform. The other is used in the Sub Oscillator Drive circuit, adding depth and warmth an octave below the oscillator. This oscillator and sub oscillator offer a circuit structure that delivers the harmonic character that only a real tube can offer.
It is equipped with a complete 16-step sequencer with a wide variety of functions; used in conjunction with a drum machine it is possible to create rhythm tracks or loop-based music. And its 16 buttons can be used to enter steps like in the rest of the Volca series, or play the buttons like a keyboard to record in real time. The Chain function allows multiple sequences of patterns to be played successively, up to 16 sequences can be chained together.
KRK Classic 5 is a reissue of the RP5 G3 classics with a number of notable improvements and a limited version. Borrowing concepts from one of the most widely used studio monitors in the world, the CLASSIC 5 proposes by default a new flat frequency solution for more critical listening, resulting in more accurate mixes. With the optional + 2dB KRK Bass Boost, CLASSIC 5 stays true to the sound that producers around the world have loved for years. Following in the footsteps of one of the most widely used studio monitors in the world, the KRK CLASSIC 5 is a solid solution for precise mixing and production.
Boss VE-20 Double Pedal comes equipped with the latest voice processing technology on the market. It allows you to correct tuning problems in real time and apply effects such as Distortion, Radio or Strobe. It also incorporates "Phrase Looper" that also allows loops and layers to be made in real time. It can be powered by transformer or batteries, so it can be used anywhere.
Nuraloop smart headphones are the world's first in-ear headphones that learn and adapt to your ear. They offer you a personalized sound with a battery of more than 16 hours with automatic on and off. With wireless use via Bluetooth or analog wired, touch control of functions, Social mode to be present in the environment, complete cancellation for total immersion, immersive bass adjustment, built-in microphone for calls, creation of personalized listening profile and settings via app.
Native Instruments Maschine Mikro MK3 drum machine is the third version of the famous and compact Machine Mikro. A perfect instrument to get started in music production that allows you to play rhythms and melodies, building tracks in a fast and intuitive way. It comes with the same software as its bigger sisters MASCHINE MK3 / STUDIO / JAM. and comes with 1.6Gb of samples, loops, instruments, presets, patterns, drum kits and songs, plus a collection of studio-quality effects that includes, filter, equalizer, delay, reverb, and compressor.
And there are 16 large, velocity-sensitive pads with four ways to input sound: Drum in Pad mode, play melodies in Keyboard mode, create chord progressions in Accordion mode, and step sequencer programming from Step mode. The pads have classic groovebox features including 16 levels of pad velocity, swing, pad link, note repeat, step sequencer, and vintage MPC60 / SP1200 sampler emulation.
Of course, a perfect gift for any music lover who doesn't know what to give is a Microfusa Gift Card. It is very simple. You just have to select the amount of the card (€ 10, € 20, € 50 or € 100), indicate the name and email of the recipient, write a message and select the delivery date.
Our Gift Cards are exchangeable for the products of the Microfusa stores in Madrid and Barcelona and in the online store. It can also be exchanged at our training center in Barcelona or for an online course.
Also remember that we have Microfusa Assistance Services:
Personal Shopper: A Microfusa expert will guide you in all the doubts you have about your next purchase. An ideal resource if you have to buy a gift for that friend or relative who is a music freak.
MF Tech Assistance: An Online Technical Assistance Service with which our experts will answer any questions about the configuration of your equipment.
Give away music! this Christmas with the interesting selections that we have prepared for you at Microfusa. Discover everything we have prepared this Christmas 2020 in our Microfusa Barcelona, Microfusa Madrid stores and in our online store.
---
Sepúlveda, 134. Barcelona / Tel.: 934 553 695
Campoamor, 17. Madrid / Tel.: 917 024 587