Today's article is dedicated to guitarists. And we do it with the best team of two of the most outstanding brands on the market: Hotone and Valeton
Hotone
Behind the Japanese brand Hotone is a group of professionals passionate about music. An international team that combines the maximum experience with the authentic artistic spirit. With one goal in mind: create audio tools only to take your inspiration to the next level.
Constantly motivated by technological innovation, excellence in quality is a competitive strength for Hotone. So as ideas turn into designs, his team strives to create products that the music world has always wanted but never thought possible before. In its catalog you will find everything from controllers to accessories, but if anything stands out Hotone is for its effects pedals of different types. As a sign of its excellence, we begin by presenting the latest from Hotone, the Ampero One.
Ampero One is a portable effects pedal that represents all the qualities of Ampero sound without compromise. Developed by the new generation of CDCM HD (Comprehensive Dynamic Circuit Modeling High Definition) and F.I.R.E. (Field Boost Response Enhancement), Ampero One brings you all the real sounds of rock past and present. Its 4-inch high definition color touch screen and the optimized user interface will give you a smoother and smarter experience.
Additionally, built on Hotone's powerful XTOMP platform, acclaimed Binary series, and innovative virtual VStomp Amp plugin, alongside the new CDCM HD & F.I.R.E, the suite introduces Hotone's new high platform circuit modeling methods.
Built in a sturdy black metal case with a 4-inch high-definition color touchscreen, Ampero delivers all the real sounds of past and present rock. In the Ampero MP-100 Multi-Effects, high-quality amp modeling and effects are powered by the new generation CDCM HD (Comprehensive Dynamic Circuit High Definition High Definition) system and the FIRE (Field Impulse Response Enhancement) system.
You also have all the quality of the Ampero MP-100 Multi-Effects with a striking pink design in its Pink Limited Edition version. With the same CDCM HD & FIRE technology that employs a complex system based on dynamic characteristic modeling and offers you a vivid, precise and expressive tone.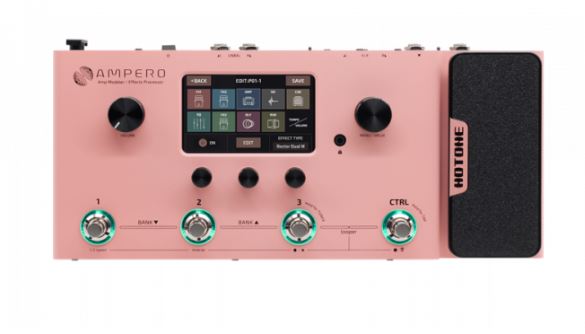 Ampero Gig Bag is the official Ampero carry bag. Designed with a reinforced inner padding to protect your equipment from damage caused by possible impacts. Its wear-resistant reinforced fabric and heavy-duty metal parts promise durability and reliability wherever music takes you.
Plus, it includes three accessory pockets (power adapter, cables, hoods) and you can even use the straps to attach it to your instrument bag as an expanded accessory holder.
After more than 10 years designing and building MI products for other brands, the Valeton team came together to offer, in one company, a new catalog of fresh and original designs for musicians seeking quality equipment for every style and genre.
Building on its strong product design, Valeton achieves a high standard of value for money. Where other brands offer cheap gear with low-quality parts, Valeton cuts costs at the design stage, keeping a simple product guaranteed to sound good over years of use.
Valeton Rushead Max is a straightforward and easy-to-use guitar headphone amp. With it you'll get all the heat from the world's most famous amps, each with a full range of gain adjustment. You get everything you need for a clean natural tone, toasted overdrive, and even heavy metal! Plus, it connects you to multi-mode modules, switchable modulation, delay, and reverb effects to give your performance that "A-list" tone.
El Valeton Dapper Dark is a multi-effect pedal for electric guitar that offers you several very creative effects to unleash your creativity. Its characteristics include:
• Tuner (with fast detection, silent tuning and large bright LCD screen), Boost (with powerful + 12dB boost), High Gain Distortion, Chorus and Tap Delay
• High gain distortion with brutal flexible metal distortion with 3-band EQ and noise gate
• Original luxury chorus
• Delay with Tap delay with analog tone
• On / off switches with status LEDs
• Strong aluminum chassis
• Jack input and output
• Effects loop
You also have available the Valeton Dapper Dark Mini, a mini-monster with everything you need:
• Tuner: a fast and precise stealth tuner
• Boost: For up to 12dB of gain on some additional digging highs and lows.
• Hi-Gain: A deliberately brutal high gain distortion module.
• Delay: Analog voice Delay module to reinforce yus riffs and solos with warm, clear repeats.
Valeton Dapper Indie is a tuner module with fast and precise tuner, INDIE DRIVE overdrive module with flexible 2-band EQ, FUZZ WALL module with a super wide range sonic character from the softest to the wildest, versatile LIQUID FX module with chorus / phaser / tremolo effects, ECHOES module with 3 delay effects ranging from vintage to modern and AMBIENT module with 3 reverb effects that create an epic spaciousness.
Valeton Dapper Acoustic Mini is a very powerful effects strip pedal with all the essentials for acoustic guitarists. Its characteristics include:
• Tuner: A stealthy, fast and precise tuner.
• COMP: A COMP module that presents the warm, powerful sound of a classic rack-mount compressor.
• PREAMP: PREAMP module with a powerful 3-band EQ to sculpt tones, a notch filter to remove unwanted feedback, and a volume control so you can stay heard.
• REVERB: REVERB module that recreates the atmosphere of a performance hall with natural decomposition.
Valeton Dapper MDR is an effects strip pedal that combines modulation, delay, and reverb effects in one. Among its features we highlight:
• TUNER module with fast and precise tuning
• MODULATION module with 9 high quality modulation effects in one
• DELAY module with 3 adjusted delay effects ranging from vintage to modern
• 3-mode REVERB module and classic voice with clear, natural decay
• Tap Tempo function for MODULATION and DELAY modules
• Switchable effects trail
Valeton Dapper is the effects strip pedal that has everything you need:
• Tuner: A large, brilliant, fast and precise tuner so you can confidently play in tune
• Overdrive: Highly adjustable to get your tone just the way you like it
• Distortion: Expanding the equalizer so you can go from classic to modern sounds
• Delay: To reinforce your solos and your riffs
• Fx Loop: To connect all your other effects
• Cab Sim: Cab simulator that will prepare you for any performance venue.
In addition, you also have the reduced version, the Valeton Dapper Mini strip, a very powerful effects strip with all the essentials for the guitar.
The latest from Valeton, the GP-100
Just a week ago, the Valeton GP-100, a compact, high-performance guitar multi-effects processor, was unveiled. A powerful effects processing platform and a complete set of functions, so you can improve your skills and experiment with different guitar effects, all in one portable and easy-to-use device.
The Valeton GP-100 has 150 effects to choose from allowing you to run 9 effects simultaneously. It provides you with an Expression Pedal that you can assign to the effect you want to control for effect changes in real time or Master Volume.
It includes a tuner to find the tone of your guitar and a drum machine with auxiliary input connector to play along with a drum loop, a metronome or your favorite music.
Definitely, whether you are a beginner or an old guitar lover, the Valeton GP-100 will give you everything you need.
And remember that at microFusa we have a great section for guitar equipment, where you will find everything you need for your passion, from acoustic and classical guitars, to all kinds of devices and accessories such as guitar amplifiers, effect pedals, pedalboards, interfaces for guitars, switches, etc.
---
Sepúlveda, 134. Barcelona / Tel.: 934 553 695
Campoamor, 17. Madrid / Tel.: 917 024 587