Komplete 13 is the best production suite in the world. If you still do not know everything that Native Instruments offers you in a single kit, today we present this guide with the different versions
For artists, musicians, producers, and sound technicians, Native Instruments Komplete 13 is the ultimate production package. With legendary synths, immersive rigs, unique sampled instruments, and sounds for any genre, production, or performance, Native brings you the best of Komplete 13 in a single production toolkit. More than 36,000 sounds of any genre: from the most diverse rhythms to movie soundtracks, passing through the most enchanting sounds. A careful and wide selection to offer versatility and inspiration without limits.
In addition, if you are a Maschine or Komplete Kontrol keyboard user, their full integration with Native Instruments hardware will allow you to get the most out of your creativity if we take into account the versatility and potential of these products and the possibilities of the Komplete 13 package.
Komplete 13 thoroughly
With its more than 36,000 sounds, Komplete 13 includes 68 instruments and effects, plus 24 Expansions. Let us know in detail its most outstanding content:
Sampling and synthesis platforms
You can use the Komplete 13 development platforms to create just about any instrument you can imagine. KONTAKT 6 is the database for advanced sample instruments from Native and hundreds of renowned developers. REAKTOR 6 handles synthesis with a flexible modular environment with which to create synthesizers, effects, and more.
But if you don't want to complicate things, both platforms include libraries full of sample instruments and synthesizers with which to create your music from the first moment.
14 synthesizers
Komplete 13 includes a collection of synths capable of producing almost any sound you can imagine – from iconic analog recreations to outright digital cutting-edge designs.
30 sampled instruments
With Komplete 13 you will discover an extensive library full of multi-sampled instruments from different continents, musical traditions and genres. From the unique piano sounds of NOIRE to the contemporary SESSION GUITARIST, the authentic multicultural sounds of CUBA, MIDDLE EAST and WEST AFRICA or the hilarious Play Series range.
5 percussion tools
With Komplete 13 you can add acoustic kits with studio sound perfection and discover classic ABBEY ROAD 60s DRUMMER rhythms. You will also have POLYPLEX, to create endless settings and combinations, TRK-01 to sequence rhythms and basses of the most hardcore techno and the BATTERY 4 supersampler to sequence everything you can think of, from cutting-edge electronic percussion to totally natural drum parts and full of nuances.
16 effects
Komplete 13's collection of effects includes everything you need to finish off, transform, and alter your sound. The new GUITAR RIG 6 PRO brings new modeled amps, new effects, and new routing options for much more than just guitar sounds. CRUSH PACK brings a contemporary twist to distortion classics, and RAUM turns reverb into an art form in its own right.
24 Expansions
Expansions are multi-genre sound packs packed with samples, loops, one-shots, and more. The MASSIVE X Expansions contain 150 presets each for Native's iconic synth, created by professional designers who have mined true gold from its complex architecture, with results never before heard.
What's new in Komplete 13
In Komplete 13 you will find its prestigious and usual tools. The best known ones have been updated, new instruments, new tools and new updates have been included to further raise the quality of this pack. Among the most important novelties we can highlight:
GUITAR RIG 6 PRO: Revamped, redesigned, and reinvented with new amps, new effects, and new ways to shape your sound.
SUPER 8: A modern eight-voice version of classic polyphonic synthesis. Warm tones and wide, pleasant sounds. Expansions for Maschine, Massive X, Kontakt libraries, instruments for Reaktor, and much more!
NOIRE: The signature sound of Nils Frahm's evocative concert grand piano, captured in his space in Berlin's Funkhaus complex.
SESSION GUITARIST – ELECTRIC SUNBURST: An exquisitely sampled expressive electric guitar, perfect for contemporary productions.
PLAY SERIES INCORPORATIONS: Komplete 13 expands its repertoire with BUTCH VIG DRUMS, LO-FI GLOW, MODULAR ICONS and CLOUD SUPPLY.
CUBA: Authentic Afro-Cuban style in a complex and super-flexible instrument.
CRUSH PACK: Elegant tonal destruction from a modern take on three iconic effects.
RAUM: A multi-faceted creative reverb, to create both subtle spaces and alien sound travels.
PHARLIGHT: Create unmistakably human textures, pads, leads, and effects using human organic timbres.
MYSTERIA: The best way to generate live textures, atmospheres, backgrounds and tension through vowels.
STRAYLIGHT: Instrument for cinematic sounds, transitions and environments.
Choose your version
Komplete 13 is available in four different sizes:
KOMPLETE 13 SELECT
KOMPLETE 13
KOMPLETE 13 ULTIMATE
KOMPLETE 13 ULTIMATE Collector's Edition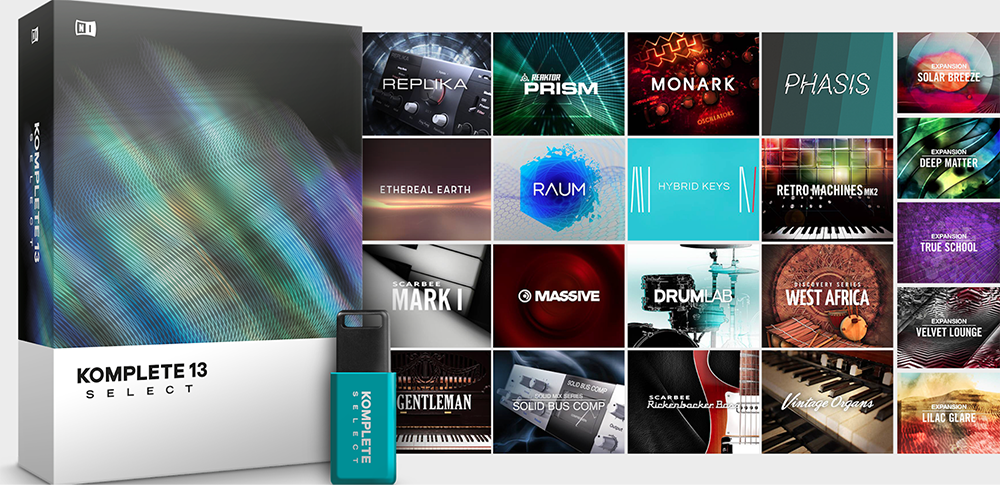 The basic of the series, everything you need to start and finish your own productions, with great sounds, exclusive synthesizers, kits and more. In KOMPLETE 13 SELECT you will find:
4 Synthesizers: Like Massive, a super wavetable synthesizer for creating dense bass, piercing leads, and expansive chords. It is capable of creating anything from sweet analog sounds to grungy and brutal tones.
10 Sampled Instruments: Like Hybrid Keys that fuses pianos, synths, melodic percussion and other sampled instruments. Touch up the effects and experiment to create unconventional keyboard textures.
4 Effects: Like Phasis, with classic phaser sounds combined with powerful new features to achieve unheard of results.
5 Expansions: Like the Velvet Lounge, a VIP pass to the seductive melodies, fluid atmospheres and avant-garde rhythms of future soul.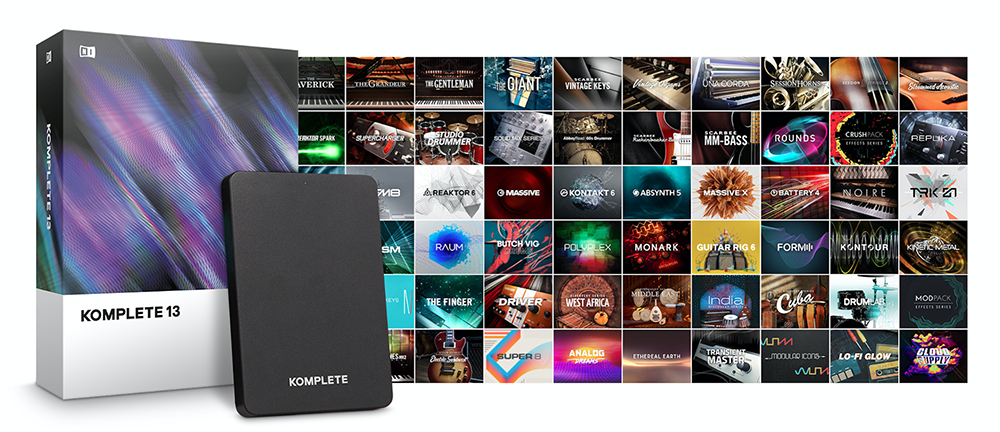 The next evolutionary step, with legendary synths, immersive rigs, unique sampled instruments, and sounds for any genre, production, or performance. In KOMPLETE 13 you will find:
Sampling and Synthesis Platforms
14 Synthesizers: Like TFK-01, a creative kick and bass instrument that combines innovative sound design, sequencing and modulation functions with classic mixing techniques.
30 Sampled Instruments: Like a String with the special sonic character of a contemporary custom-built piano with only one string per key, sampled with an incredible level of detail.
5 Drum Tools: Like Polyplex, an eight-part drum sampler with extraordinary randomization capabilities, creative grouping of sounds, and nearly infinite modifiability..
16 Effects: Like Choral, a classic chorus, and more – add breadth, movement, sparkle and sparkle to any signal. Or use an entirely new feedback mode.
24 Expansions: Like Indigo Duyst, in the spirit of deep techno and morning euphoria: pulsing rhythms, deep bass and soulful synth lines..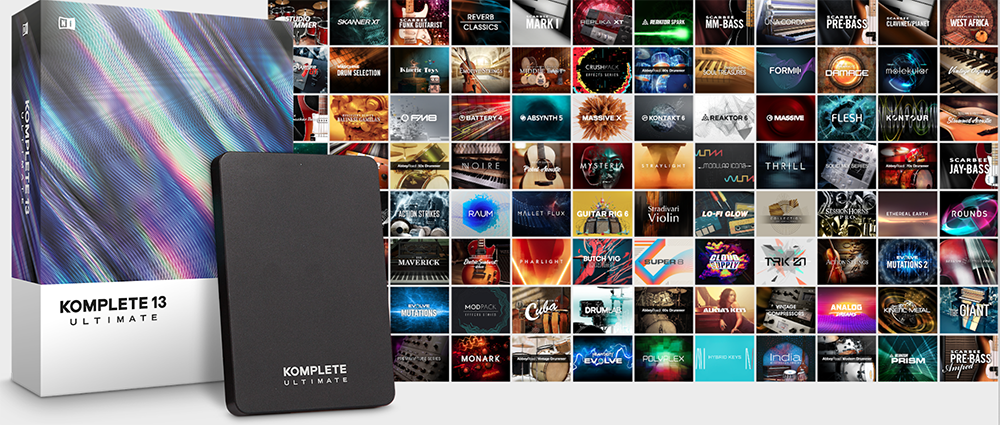 Ultimate makes Komplete 13 even bigger in an expanded version with the full range of synthesizers, sample instruments, and effects, plus a colossal orchestral and cinematic toolkit for musicians, sound designers, and composers. In KOMPLETE 13 ULTIMATE you will find:
21 Orchestral and Cinematic Instruments: Like Thrill, a perfect instrument for playing chilling atmospheres, clusters of sounds and hybrid textures – in real time.
Sampling and Synthesis Platforms
17 Synthesizers: Like Absynth 5, a highly versatile semi-modular. Perfect for creating atmospheric mattresses, changing soundscapes and much more.
39 Sampled Instruments: Like The Grandeur with the rich, super-detailed sound of one of the world's most beloved concert grand pianos.
12 Drum Tools: Like Battery 4, a 21st century drum sampler and a favorite in studios around the world for drum sampling and creative beat production.
26 Effects: Like The Finger, an innovative multi-effects unit that can be played like a musical instrument.
39 Expansions: Like District Xeo, with the raw and timeless sound of underground electro: robotic but emotional rhythms, sonic glitches and synths.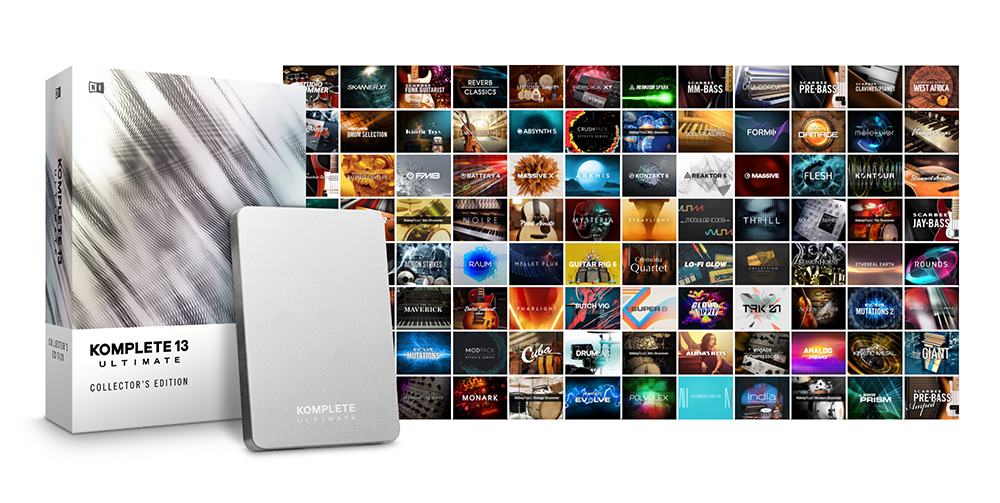 But Native could still go further and achieve total creative freedom. Featuring flagship synths, sampled instruments, effects, and groundbreaking libraries. In KOMPLETE 13 ULTIMATE Collector's Edition you will find:
25 Orchestral and Cinematic Instruments: Featuring the iconic sounds of the full CREMONA QUARTET, contemporary SYMPHONY SERIES, and state-of-the-art ARKHIS orchestral engine.
Sampling and Synthesis Platforms
17 Synthesizers: Like Skanner XT, a radical sampler and synthesizer hybrid capable of creating pure and unpredictable sounds.
39 Sampled Instruments: Like The Maverick an expressive antique grand piano, digitized with extreme detail for authentic tone and unrepeatable personality.
12 Percussion Tools: Like the Abbey Road series, recorded at Abbey Road Studios, London.
26 Effects: Like Molekular, the modular effects system for REAKTOR: inspiring effects, limitless routing, and electrifying live possibilities.
73 Expansions: Like Anima Ascent, ultra-modern pop sounds with an eclectic fusion of trap, R&B and soul. Mass sounds passed through the darkest underground.
Version update and upgrade
Komplete 13 Select
Komplete 13
Komplete 13 Ultimate
Komplete 13 Ultimate Collector's Edition
Full version price
€ 199.00 / free with the purchase of a KOMPLETE KONTROL S-Series keyboard and selected MASCHINE hardware
€ 599,00
€ 1.199,00
€ 1.599,00
Update price
€ 199,00 for owners of KOMPLETE 2-12
€ 399,00 for owners of KOMPLETE ULTIMATE 8-12
 € 499,00 for owners of  KOMPLETE 12 ULTIMATE Collector's Edition
Price upgrade version
€ 99.00 for owners of a MASCHINE MIKRO Mk3, KOMPLETE KONTROL A-Series or KOMPLETE AUDIO 6 device
€ 399,00 for owners of KOMPLETE SELECT

€ 499,00 for owners of a MASCHINE MIKRO Mk3, KOMPLETE KONTROL A-Series o KOMPLETE AUDIO 6

€ 999,00 for owners of KOMPLETE SELECT

€ 599,00 for owners of  KOMPLETE 8-13

€ 999,00 for owners of  KOMPLETE 8-13

€ 599,00 for owners of  KOMPLETE ULTIMATE 8-13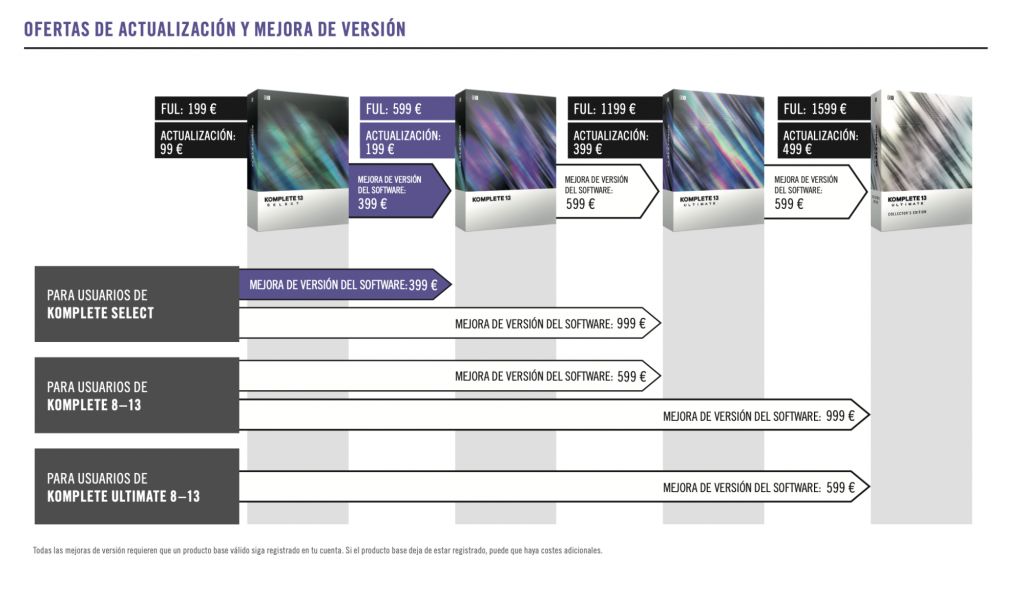 And remember that in the Microfusa stores in Barcelona and Madrid as well as in Microfusa online you will find all Komplete 13 products as well as their updates in the Native Instruments section.
---
Sepúlveda, 134. Barcelona / Tel.: 934 553 695
Campoamor, 17. Madrid / Tel.: 917 024 587