The last week of each month will be our Blue Week in Microfusa stores, each one dedicated to a different theme, with discounts, gifts, special packs, etc. We dedicate this month to the monitors
Things are getting tough for everyone with this pandemic. Apart from the sad health problems that it entails, between confinements, curfews, time limitations and other measures to preserve our health, we find ourselves in a situation of uncertainty from which we are gradually emerging. At Microfusa we want to add our two cents to make things easier and we have had an idea. It's about the Blue Week.
Blue Week, special weeks
The last week of each month will be a Blue Week, it will be a special week in Microfusa stores. Why will it be a special week? Simple, the Blue Week weeks, each one will be dedicated to a different theme and each one will have a different benefit.
A week can be dedicated to monitors, like this first one that begins next Monday, February 22. And the next one may be dedicated… We'll see! Stay tuned to our social networks and our blog because every Blue Week will be a surprise.
And each one will come with a different advantage: discount, gifts included in the purchase, special packs, etc. Each week will have its special benefit.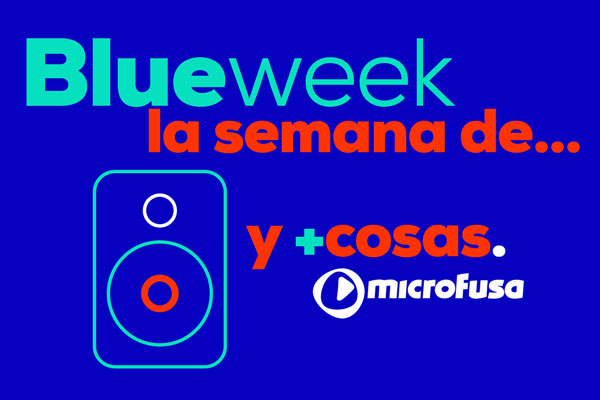 Blue Week in February, special monitors
As we said above, this February will be our first Blue Week and we dedicate it to monitors. All monitors included in the promotion come with a gift: a Leezen insulation pad and an Adam Hall cable.
In the promotion you will find monitors from major brands such as KRK, EVE Audio, Adam, Yamaha or Focal, among which we can highlight the following:
With their distinctive and familiar yellow woofer, the KRK speakers deliver natural and precise sound. The KRK Classic 5 is a reissue of your classic RP5 G3 with a series of notable improvements that proposes by default a new flat frequency solution for a more critical listening and that translates into more accurate mixes.
Roland Stenz, co-founder, shareholder and CEO of ADAM Audio left the company and founded EVE Audio to develop a new range of studio monitors. With the EVE Audio SC203, EVE wanted to bring the sound quality, low distortion and high resolution of the now famous AMT tweeter to a much smaller format speaker.
This process has required extensive research and development work to find the perfect solution. In the end, as a result of this work, a new tweeter was born that is used exclusively in the SC203, the new μA.M.T.
Since the late 1990s, the Bernile Adam Audio has been a benchmark in the manufacture and distribution of loudspeakers in the field of professional audio. The Adam T8V, ADAM Audio's latest addition to the T Series, is an affordable, professional two-way studio monitor with an 8 ̋ woofer that provides best-in-class sound performance and characteristics.
Adam T8V impresses with a multitude of features that bring real benefits to the user: The 4: 1 speed transfer ratio of the U-ART tweeter, in combination with the high dynamic range of the new Class D amplifiers, produces maximum pressure. 118 dB per pair. The tweeter, which extends up to 25 kHz, works in tandem with the HPS Waveguide. This allows optimal radiation of the high frequencies, which means the advantage of a more controlled and larger sweet spot usable during monitoring. With an extension of the bass down to 33 Hz, the T8V is especially suitable for users who produce music with lots of bass.
Yamaha HS7 Mp are part of the HS MP special edition of new Yamaha powered monitors. Two monitors, active as closely as possible to each other, that have been acoustically matched for precise performance.
Yamaha has meticulously designed and optimized every component of the Yamaha HS7 to give you the best possible signal reproduction across the audio spectrum. It's equipped with a 1 "dome tweeter that expands the monitor's frequency range and gives you great high-resolution sound, and a newly designed, highly responsive 6.5" woofer to handle bass. Additionally, it features a large magnet that has been carefully selected and painstakingly optimized along with the rest of the woofer components.
It also has two amplifiers that provide 60W LF and 35W HF for an incredible high performance 70W power amplification. And since the Yamaha HS7 has separate dedicated amplifiers for the tweeter and woofer, this active studio monitor is capable of delivering consistent high-resolution sound with an incredibly flat response.
Since 1980, the French company FOCAL has been selling some of the best hi-fi systems. The Focal Shape 65 is the benchmark monitor in the Shape series. A near field monitor that expresses its full potential at a listening distance of 1 meter. The Shape series is made in France and integrates 5 innovations to maximize acoustic transparency. Designed to meet the needs of close monitoring, Shape monitors combine an ingenious design and numerous settings optimized for listening in small rooms.
These innovations provide remarkable transparency. These new work tools provide a wide and accurate stereo image. The bass register is well articulated and controlled. The mid-low and mid register is quite neutral and without masking effects, making the equalization of this register much easier. Finally, the new tweeter is of incredible definition, efficiently revealing any hissing, and being extremely accurate at the high end.
February Blue Week Gifts – Monitors
As we explained above, all the monitors included in the February Blue Week promotion come with a gift: a Leezen insulation pad and an Adam Hall cable:
For 6/7/8 "monitors, the LEEZEN ACC07 Isolation Pad is a gift. A high-quality isolation pad specially designed for 6, 7 and 8-inch reference monitors, made of high-density insulation foam.
For 4/5 "monitors, the LEEZEN ACC06 isolating pad is a gift. With the same features as the ACC07 but designed for 5-inch reference monitors.
And all the monitors of the promotion get the XLRm-Jack Stereo 3m Adam Hall cable as a gift, with the quality of the German company.
If you want to see the studio monitors that are part of this incredible promotion, just visit the Blue Week page. And don't forget to keep an eye on the blog and our social networks to discover the surprises we have in store for the next Blue Week.
---
Sepúlveda, 134. Barcelona / Tel.: 934 553 695
Campoamor, 17. Madrid / Tel.: 917 024 587