Next Friday, July 23, at the Microfusa Barcelona store, the presentation of the RANE One controller will take place with DJ Tillo
RANE appeared in the early 1980s with four products designed to enhance the live performances of small bands. Its philosophy was based on offering the highest quality at the lowest price, thus establishing a new average standard that fell between the high-end, which it surpassed in price, and the low-end, which it far surpassed in quality and reliability. .
In no time the DJ mixer market was entered by Richard Long, famous designer of sound systems for the big names of the disco era. Long was famous for having designed systems for nightclubs such as Studio 54, Annabel's (London) or Regine's (a famous chain of 19 clubs from Paris to New York and Cairo).
Long asked RANE to redesign the iconic X3000 crossover using his proprietary technology. Thus was born the X3000A, RANE's first step into the DJ world.
The RANE One Professional DJ Controller
One of the latest jewels in RANE's crown is the One, a professional DJ motorized controller with two 7 "avocados. The RANE One is characterized by its exceptional performance, by delivering RANE's trusted sound, and by its intuitive design:
Exceptional performance: The RANE One professional motorized DJ controller embodies the features of high performance, reliability and exceptional quality for which this Washington state brand is known. And it combines them in a complete solution for DJs with motorized 7 "turntables.
RANE Sound You Can Trust: The One upholds RANE's reputation for high sound quality and the creative freedom it affords. Ready to play live, it is a tipping point in music control for DJs who master the best in performance and sound.
An intuitive design: The RANE One offers DJs a familiar, intuitive and performance-oriented design. With everything you need, wherever you need it. Take charge with multi-function performance pads, aluminum paddles for special effects, dedicated loop section, and mixer controls.
But the One is exceptional for many more reasons. It features authentic 7 "motorized turntables that give you high-performance precision. With them you will experience a feeling similar to traditional vinyl, with all the creative tools that the digital world offers you.
In addition, it has all the professional connections you may need. It offers you multiple connectivity with maximum flexibility. With 3 stereo outputs, dual microphone and dual USB laptop connections, and Phono / Line and Aux inputs.
And if you like scratching, you will love the MAG FOUR crossfader. Being the lightest and smoothest fader ever, the MAG FOUR gives you fast and precise control of your cuts, with a software cut setting available in Serato DJ Pro.
Discover the magic of RANE One in our presentation at Microfusa Barcelona
If you want to discover all the functions of RANE One with DJ Tillo, sign up for our presentation next Friday, July 23 at 6:00 p.m. at the Microfusa store in Barcelona (at C / Sepúlveda, 134). The event is free, but you must register through Eventbrite.
All those attending the in-store presentation will be entered into a raffle for 3 pairs of Serato Timecodes vinyls. Yes, there will be 3 winners!
But if it is not possible for you to go to our Microfusa Barcelona store, you also have the possibility of watching the broadcast live through our Twitch, YouTube and Facebook Live channels. There is no excuse to miss it!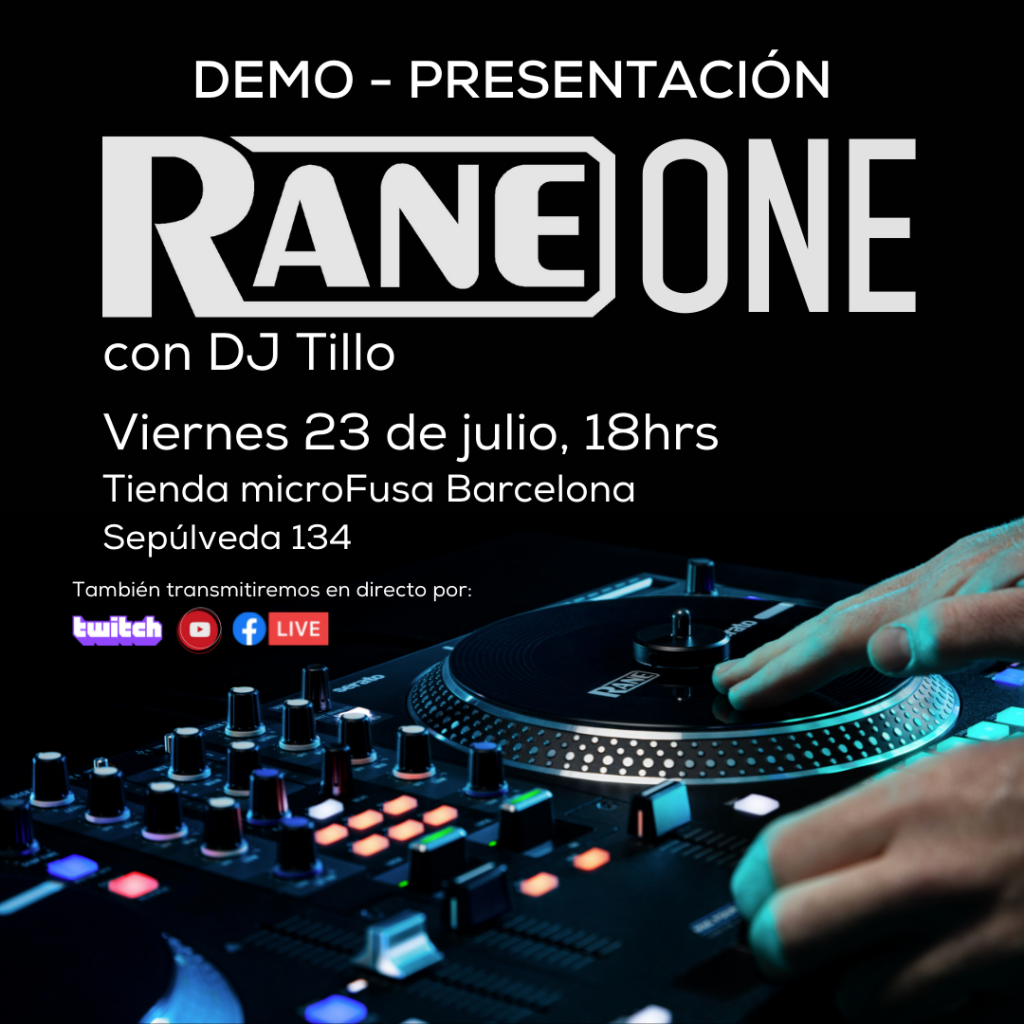 ---
Sepúlveda, 134. Barcelona / Tel.: 934 553 695
Campoamor, 17. Madrid / Tel.: 917 024 587