Rode has just launched a new version of its popular ultra-compact wireless microphone system, the Rode Wireless GO II. Its previous version, the Rode Wireless GO was the smallest wireless microphone system in the world
Rode Wireless GO II is an ultra-compact and extremely versatile dual-channel wireless microphone system. Unlike its original version, it has new functions that make this microphone system even more powerful and flexible.
Even so, it is not too far from the Wireless GO version, as it still maintains the same pocket form factor, but with new features and functionalities that make it, today, the best wireless microphone system on the market.
Wireless GO II is the perfect microphone for a wide range of content creation applications. Ultimately, the Wireless Go II is the most versatile and compact audio recording product you can find.
Rode Wireless GO II Key Features
The new Rode Wireless GO II wireless microphone has a number of new features, including:
The two-channel wireless microphone system can record two sound sources at the same time.
2.4GHz Series IV digital transmission, 128-bit encryption up to 200m (line of sight) of clear audio, optimized for extremely stable operation in dense RF environments.
3.5mm TRS analog output, USB-C and iOS digital output: Universal compatibility with cameras, mobile devices and computers.
On-board recording: more than 24 hours of internal memory.
You can choose to record each channel individually or combine them for maximum flexibility in post-production.
Channel safe, flexible gain control (3 pad levels, expandable to 10 levels).
Built-in rechargeable lithium-ion battery – Up to 7 hours of battery life.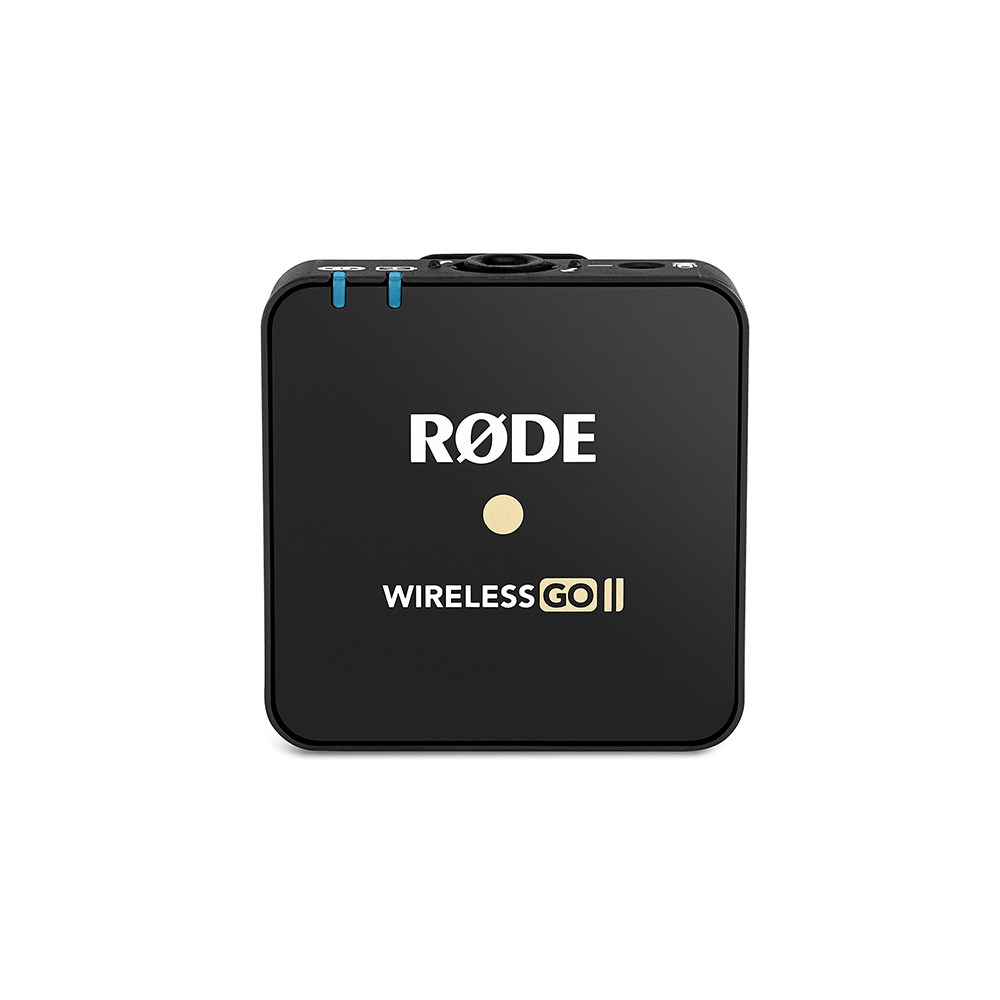 Differences between Rode Wireless GO and Rode Wireless GO II
Channels
Rode Wireless GO wireless microphone system used a single channel, while version II is a two-channel system. This means that you can connect the transmitters to two different people to record your conversation.
Since Wireless GO II can handle two transmitters at the same time, it has the function of switching between stereo or dual mono output mode. This allows each sender (and therefore each subject) to be recorded on a separate channel.
Alternatively, the signals from the two transmitters can be mixed and recorded identically on the left and right channels.
Safety channel function
The new Rode Wireless Go II has a secure channel feature, which can also be viewed on the Rode VideoMic NTG. When enabled, the Wireless Go II wireless microphone will keep the second channel -20dB lower than the main channel in case of clipping or distortion.
This function is useful if the volume of the sound can change unpredictably and is a complement to a three-level pad (gain control) that can be extended to a ten-level pad.
Rode Central App
Rode Central companion app for Mac or Windows is used to unlock powerful features and customization features of the new ultra-compact Rode Wireless GO II wireless microphone system
Built-in streaming media recording.
Recording of configurable two-channel backup audio tracks.
Playback and export of files, etc.
Through this new app, each streamer provides a built-in audio recorder, which can provide up to seven hours of uncompressed recording (24-bit / 48 kHz WAV) or 24 hours of compressed recording, which is very suitable for one recording. carefree backup.
File export formats
Files can be exported in various formats, such as MP3 or WAV (16, 24, or 32-bit floating point) with date and time stamp information.
Audio outputs
Rode Wireless GO II incorporates a USB Type-C digital audio output that can act as a 24-bit / 48kHz audio interface, in addition to the traditional 3.5mm TRS analog output.
Wireless GO II can be connected to a computer using the included USB Type-C to USB Type-A cable. It also allows you to connect to the Lightning port of an iOS mobile device via the Rode SC15 cable, or to connect to the USB Type-C port of a portable iPad Pro.
Maximum reach
Compared to the Rode Wireless GO's maximum range of 70 meters, the new IV Series technology extends the Wireless GO II's line of sight to approximately 200 meters.
In crowded wireless environments, it can also provide higher signal strength. Additionally, the system is designed to operate two transmitters without affecting range performance.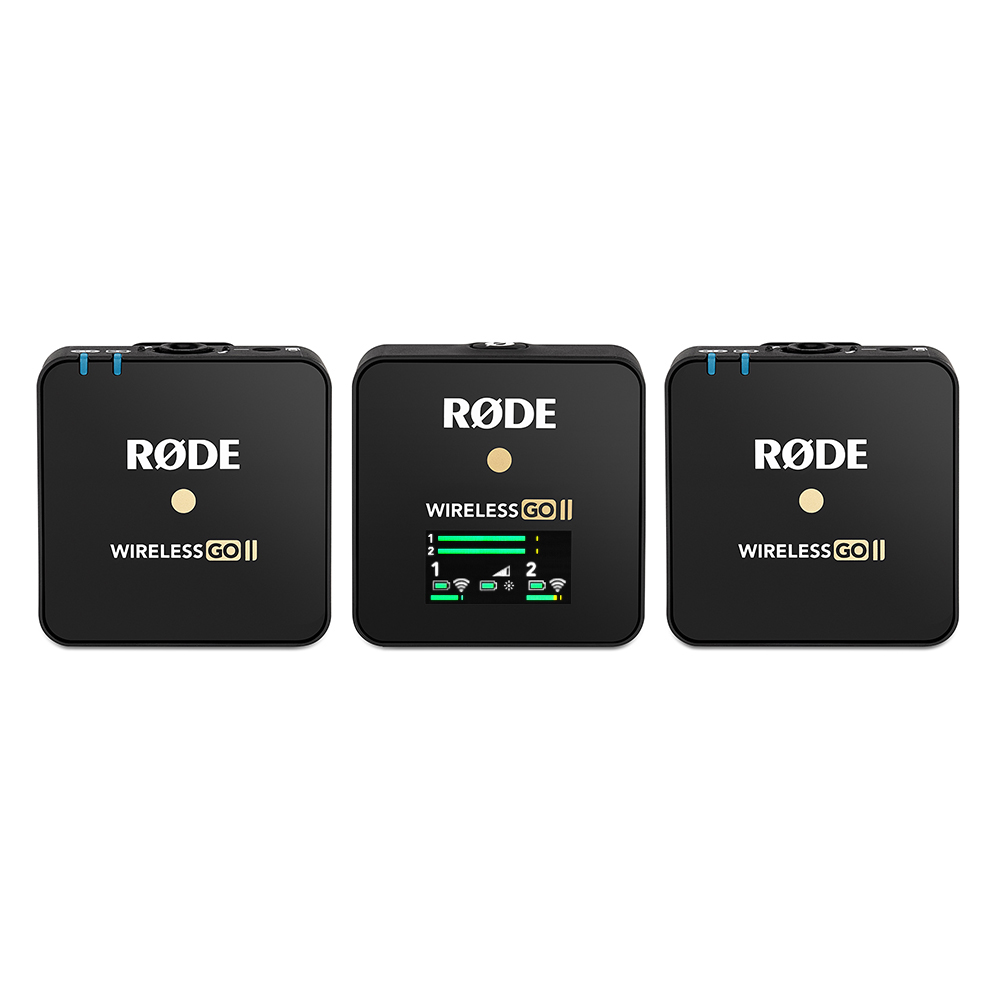 If you are looking for a wireless microphone system, you should buy the Rode Wireless Go II from Microfusa.
---
Sepúlveda, 134. Barcelona / Tel.: 934 553 695
Campoamor, 17. Madrid / Tel.: 917 024 587