USB microphones are a great choice for their simplicity and ease of use. At microFusa we have a wide range of USB microphones. Discover the comfort and quality that these microphones can offer you
USB microphones have represented a small technological revolution in the world of microphones. And is that choosing between a micro USB instead of an XLR does not necessarily imply a worse sound quality. The possibility of taking a USB microphone and connecting it directly to a computer with ease has given rise to phenomena such as podcasting in recent years. Anyone without specific audio knowledge can start recording without much hassle. And even more that we can connect our USB microphones to our smartphone or tablet to record on the move, meetings, etc.
Ultimately, considering that a micro USB doesn't sacrifice audio quality, your choice is a matter of simplicity and convenience. If you are looking for a good USB microphone, in today's article we present you the best of microFusa.
LEEZEN MIC01 is a professional quality condenser microphone that plugs directly into a USB port on your computer to add not only a studio microphone, but also a 24-bit / 96kHz audio interface that will make your recordings sound like never.
It has a dedicated Mute button, as well as rotary gain and volume controls. It is, in short, a practical MIC / USB control that allows you to balance the mix between the microphone signal and the audio signal coming from the computer. And its handy headphone output lets you monitor what you're recording along with previously recorded tracks.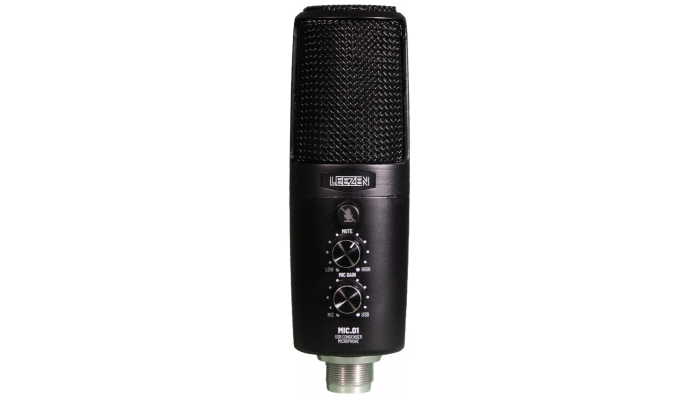 Element Series EM-USB is a professional-grade USB condenser microphone for enthusiasts with home recording studios, live streaming, podcasts, and online content creation.
Its internal gain, mute or mute controls and headphone monitoring volume make it an extremely versatile tool. And its included tripod makes it easy to capture high-quality footage anywhere.
Takstar GX6 is a micro USB that adopts three 16mm condenser capsules with a clear and natural sound quality. Supports four adjustable recording modes (stereo, cardioid, bidirectional, and omnidirectional). And it comes with a built-in low-noise, low-power microphone amplification circuit and adjustable microphone input gain. It also offers a built-in headphone amplifier and a separate monitoring volume control that meets monitoring requirements.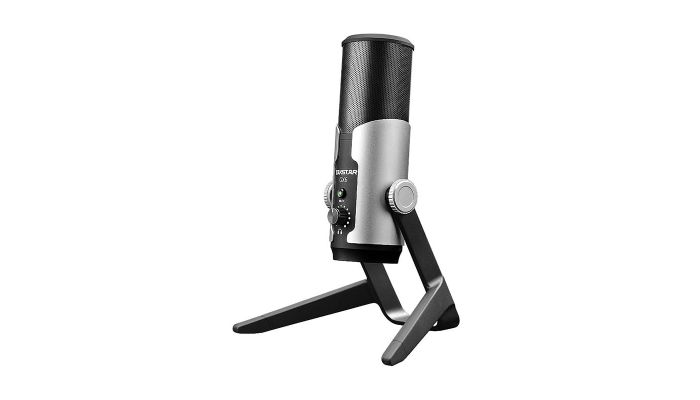 RØDE brings all its excellent sound quality with its NT-USB Mini. A compact and easy-to-use USB desktop microphone designed to deliver clear, professional-sounding audio. Ideal for Gamers, Podcasters, Musicians, Streamers, business professionals and content creators who want to be heard with the highest quality.
Sequel to IK's hit iRig Mic HD, the iRig Mic HD2 Multimedia is designed to put the full power of high-resolution sound in your hands, so you can easily create exceptional professional content wherever you go, on any device.
It features high-quality 24-bit converters with sampling rates up to 96kHz, a low-noise preamplifier, a high-quality gold-plated electret condenser capsule, and a headphone output with on-board volume control for direct monitoring. iRig Mic HD 2 offers unmatched quality and versatility at the most affordable price.
The Samson C01U Pro Podcasting Pack eliminates the problems of creating a functional workstation by providing all the necessary components so you can record in a single kit that is very suitable for both home and mobile. Includes Samson's C01U Pro USB Studio Condenser Microphone, MD2 Desktop Microphone Stand, SR850 Semi-Open-Back Studio Headphones, USB cable, and convenient carrying case.
The C01U Pro micro USB included in this pack is the updated version of the world's first USB studio condenser microphone, the C01U, which has become an industry standard among countless music and broadcast professionals.
SHURE PG 42 is a wide-range, lateral pickup studio microphone for vocals and backing vocals. With -12dB @ 120Hz high-pass filter, -15dB attenuator, built-in preamplifier with gain control, zero-latency monitoring and headphone output with recording / playback monitor mix control.
Monkey Banana Hapa Black is a USB condenser microphone that provides you with an ideal solution for podcasting, studio plug-and-play recording or mobile recording applications. The set includes a shock mount, USB cable and a protection bag.
In addition, it is available in black, red or white.
About the size of an iPhone, the Apogee MiC 96K is a professional-quality studio USB microphone that makes it easy to capture your best shot in incredible quality, wherever your music takes you. Record any sound you can imagine, from vocals to voiceovers, instruments to interviews and everything in between, and build a track directly to your iPad, iPhone or Mac with GarageBand or your favorite DAW.
Marantz MPM-2000U is a professional-grade condenser micro USB, perfect for recording high-quality audio directly to a digital audio workstation (DAW). Its frequency response is studio quality and its built-in 48 kHz and 16-bit A / D converter make it ideal for recording vocals, instruments, and percussion.
This is our selection of the 10 best USB microphones in the opinion of our experts. But remember that in the section of microphones with USB connection in our online store you will find many more.
---
Sepúlveda, 134. Barcelona / Tel.: 934 553 695
Campoamor, 17. Madrid / Tel.: 917 024 587