If you are looking for good sound quality combined with the most exclusive design, your best option is Kanto monitors. Today we present you some of its most outstanding speakers, the TUK series
Kanto is a Canadian brand founded in January 2007. It was born with the philosophy of creating quality products with style and offering excellent value to customers throughout their life cycle. Years of designing and manufacturing OEM products for large consumer electronics companies gave them the passion and strength they needed to create a new brand with outstanding potential. Today, that experience and passion, combined with a team of dedicated engineers, is the key to their success.
It is a brand where detail prevails. For Kanto, each of their team members represents a consumer, and none of them would be satisfied selling a product that they would not enjoy themselves.
Kanto manufactures a colorful selection of uniquely designed desktop speakers, subwoofers, and speaker stands. Among its entire range of monitors, the YU2 desktop model, the YU4 and YU6 models with Bluetooth and the new compact SYD system are especially notable. All of them allow the connectivity of the SUB6 and SUB8 Subwoofers.
New YU active speakers
As we write this article, Kanto has just announced the launch of its new YU Active Speakers, intended to revolutionize the world of audio. Housed in YU's compact MDF boxes, they will be everything you need to get the most out of your music. With Bluetooth 4.2 with aptX they provide high quality streaming, a single RCA input covers all your analog needs and a SUB OUT port gives you the option to really boost the bass.
With 4-inch Kevlar® drivers and 1-inch silk dome tweeters, this active speaker system gives you smooth, natural sound while ensuring you experience the full impact of lower frequencies.
Soon we will have them available in our stores, but until they arrive, if we have to talk about the flagship of Kanto we have to mention the TUK series, the jewel in the crown.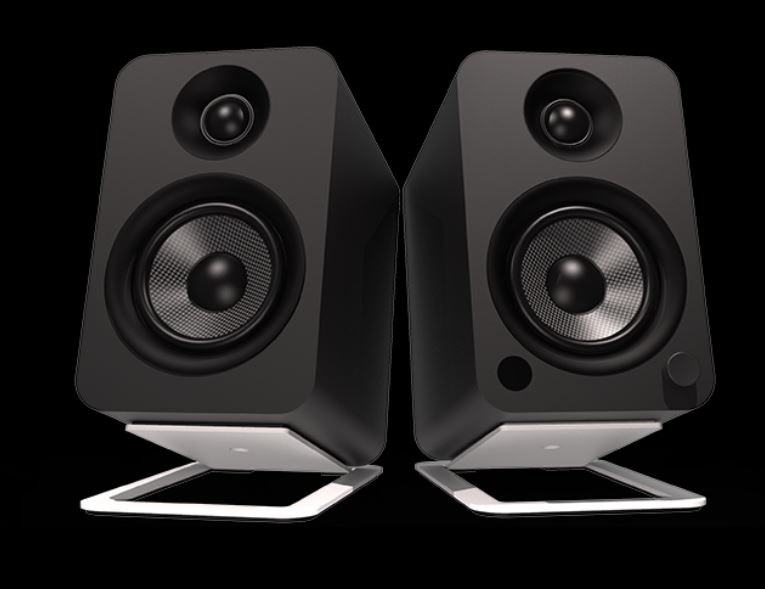 Definitely, the TUK series is the best-sounding and feature-packed speaker Kanto has developed to date.
Powered by a 130W RMS Class D amplifier, sending 65W RMS to each channel, the Kanto TUK monitor implements Full Digital Signal Processing (DSP) to tune the speakers exactly how we want them to sound. It also gives us the ability to add an active crossover network to our speakers for the first time. Active crossover further enhances bass resolution by filtering frequencies below 80Hz when connected to a subwoofer.
It also includes an aptX HD codec to transmit high-resolution audio through Bluetooth. If your device supports aptx HD, you can now enjoy higher quality audio than CD wirelessly. It also includes standard aptX and AAC codecs to ensure you get high-quality wireless sound, regardless of the device you use.
Kanto TUK loudspeakers use high-performance AMT tweeters that not only deliver brighter, more precise treble, but also deliver an extraordinary soundstage. Lose yourself in your favorite songs and soundtracks, regardless of where you are in the room.
On the other hand, when with the ability to save custom EQ settings for each input, the TUK series allows you to control exactly how each of your devices sounds. Keep the bass up while you play or stream, and keep a flat equalizer when you switch to vinyl. Whatever your preference, you simply configure it and forget about it. Plus, automatic standby and power-on modes help conserve power when you're away and ensure immediate playback when a wired or Bluetooth source is detected. Standby mode can also be disabled to keep the speakers on at all times.
And last but not least, when the wiring or location of your outlet requires the active speaker to be placed to the right, the TUK monitor makes it easy to maintain a proper stereo image by giving you the ability to swap out left and right channels. No extension cable required.
Incidentally, the Kanto TUK series is also available in black and white. What more can you wish for?
Of course, the TUK series is absolutely impressive, but in our online store you will find the entire range of Kanto monitors.
---
Sepúlveda, 134. Barcelona / Tel.: 934 553 695
Campoamor, 17. Madrid / Tel.: 917 024 587