Today we present you the best solutions and equipment to be able to stream your live performances, DJ sessions, tutorials and content without leaving home
Before we were all locked up at home by the coronavirus crisis, it was already evident that Live Streaming was not a fad. You just have to look at a few facts. Users of the Periscope Streaming platform watch a total of 110 years of video a day. And on Facebook, its users spend 3 times more time watching live broadcasts than watching pre-recorded videos. It is clear that Live Streaming was here to stay. But it is that, now, with the confinement, streaming has gained more strength than ever. So stick around. What could streaming do for your music?
Live video offers you a unique opportunity to show your music and knowledge making it accessible from anywhere in the world. Think about it, your audience is there. They are all your friends from your social networks and your friends' friends. Live Streaming gives you the opportunity to share and go beyond mere mp3s and its potential is absolutely immeasurable.
You just need some equipment to get the best out of yourself. In our Streaming Solutions section of the microFusa Store you will find everything you need: video cameras, microphones, audio interfaces, live streaming studios, mixers, recorders, video mixers, etc. You will only be missing a computer or a mobile.
Video-cameras
The Zoom Q2n 4K is the perfect camera for your live videos. Combine unmatched audio with sharp 4K images. And its High Dynamic Range (HDR) technology automatically adjusts exposure, so its lighting effects don't ruin your shot.
More advanced, the Zoom Q4n is a video camera that with its 10 advanced lighting presets captures our video with a quality never reached before. And with superb audio quality that no other camera can match.
Microphones
The Rode NT-USB Mini is the perfect microphone for Gamers, Podcasters, Musicians, Streamers, business professionals and content creators who want to be heard with the highest quality. It brings the excellent sound quality of RØDE's world-class studio microphones to a compact and easy-to-use USB desktop microphone. Designed to deliver clear, professional-sounding audio directly to a computer or tablet.
IK Multimedia iRig Mic HD2 is the sequel to IK's hit iRig Mic HD. Designed to put all the power of high-resolution sound in your hands, so you can easily create exceptional professional content wherever you go, on any device.
Audio interfaces
Zoom UAC-2 is a bus powered interface with two channels of high resolution 24 bit / 192 kHz audio compatible with Windows or Mac equipped with USB 2.0 or 3.0, even to your iPhone / iPad.
It works with everything from old USB 2.0 laptops and desktops to the latest generation computers equipped with Mac or Windows USB 3.0. Or plug in an Apple AC adapter and camera connection kit or Lightning to USB camera adapter (sold separately) and use it with your iPhone / iPad.
Tascam US-2×2 TP Pack Recording Home Studio is a production pack that includes the TASCAM US-2×2 USB audio interface, the TASCAM TM-80 condenser microphone and the TASCAM TH-02 studio headphones.
Live streaming studios
Roland GO: LIVECAST is a smartphone live streaming studio that enables streamers to enhance and manage live content online while staying engaged with their audience. It is quick and easy, since it does not require a previous configuration. Simply connect a smartphone and headphones to monitor the sound and start broadcasting.
Audio mixers
Zoom LiveTrak L-12 is a mixer and professional audio interface with which you can mix, record and monitor with a single piece in your studio. It's the digital mixer that lets you mix your live performance and record up to 12 channels, while offering you five individual and custom headphone mixes.
Zoom LiveTrak L-8 makes it easier than ever to mix, monitor, and record professional sounding podcasts and music performances in one affordable, portable package. With the push of a button you can play intros, outros, jingles, announcements and sound effects.
Recorders
The Tascam DR-05X is the new generation of the acclaimed line of professional handheld recorders. It is the successor to the brand's most popular engraver, built on its heritage. The DR-05X is ideal for voice recording, dictation, meetings, and music. It offers a pair of high-quality, omni-directional stereo microphones, with a studio-grade USB audio interface with 2 inputs and 2 outputs perfect for live streaming, podcasting, and digital workstations.
The Tascam DR-40X Recorder is the natural evolution of the popular DR-40V2 model and marks a resounding upgrade to the robust recorder. It is the perfect companion for videographers, dubbing artists, songwriters, and podcasters. It offers unidirectional stereo microphones adjustable in A / B or X / Y configuration.
Video mixers
The Roland VR-1HD lets you stream dynamic multi-camera live streams, complete with incredible image and sound that easily overshadow "standard" live streams from a mobile phone or static webcam. If you are a commentator or presenter, it is the easiest way to broadcast live with high production standards.
Roland V-20DH is a "micro switcher" that replaces several independent units: a simple switch, a high-quality scaler, an input expander, an audio solution and online / composition video effects. It can take the HDMI output from two cameras and seamlessly switch to a connected recorder or live streaming encoder.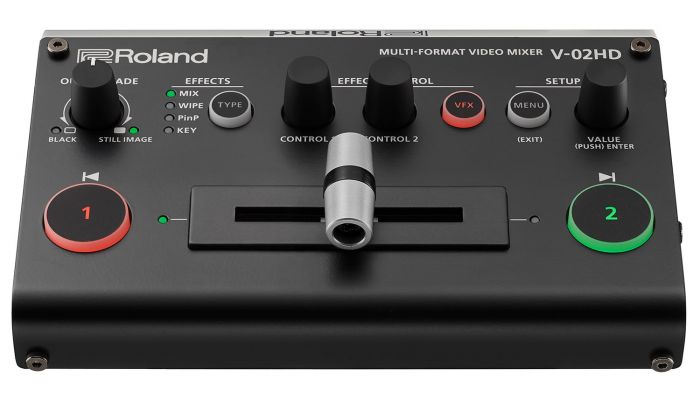 Transmission systems
Marantz AVS is an all-in-one streaming system that delivers the professional components of the live streamer in a compact, self-contained package. It features a Full HD webcam that supports H.264 video compression, a high-quality 48kHz / 16-bit USB condenser microphone conveniently integrated into the base of the unit, and a LED light ring, with daylight balance. , with both cold and warm filter accessories for the look of a studio production.
Marantz Turret has a Full HD webcam with built-in H.264 video compression, a high-quality 48kHz / 16-bit USB condenser microphone with pop filter and a LED ring light, with daylight balance, with filter accessories both cold as hot.
You no longer have an excuse to launch into the world with streams of your live performances, your DJ sessions or your tutorials. Just visit our Streaming Solutions section and get the necessary equipment to get started. Also, to make it much easier during this #Yomequedoencasa campaign, all the products in this section are discounted. Either they are on offer or you can get them with a 5% discount with the code YOMEQUEDOENCASA. Do not miss this opportunity!
---
Sepúlveda, 134. Barcelona / Tel.: 934 553 695
Campoamor, 17. Madrid / Tel.: 917 024 587